Movie Theaters: The Way They Were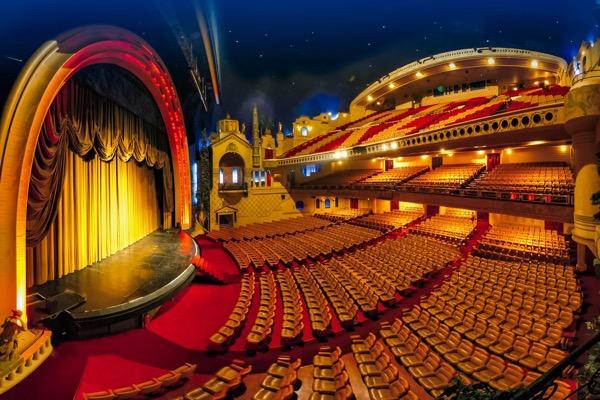 We all have our own early experiences with moviegoing. My mother once told me that when I was two or three she took me to a movie about a dog. I apparently sobbed uncontrollably when the dog got lost and couldn't find his way home. This probably left a lifelong scar; as the old saying goes, never follow a dog act. I'm not a cat person, perhaps because few movies have ever been made about a cat (well, there was at least one recently about a bunch of them, but let's not go there!). There was never a
Fluffy Come Home
.
Once upon a time the movie on the screen was only part of a theater experience; the theater itself was often part of the show. A few years after that canine-caused cry-in my uncle would take me to see whatever was playing at New York's Radio City Music Hall on school vacations (I grew up in Connecticut but we still had relatives in the city). That theater was and remains a wonder. In those years it combined a movie and a stage show. It no longer shows movies, but instead features concerts and other live events off and on throughout the year.
But I digress. In an unplanned visit to the lower shelves of my mostly video- and CD-filled bookcase I found a large, heavily-illustrated, footnoted, indexed, and long forgotten book about the history of the movie exhibition trade, from both its business and architectural perspectives: Cinema Treasures: A New Look at Classic Movie Theaters by Ross Melnick and Andreas Fuchs. Before you get too excited, the book will be hard to find, though there were a few (used ) listings for it on Amazon at up to $60. I wouldn't be surprised if most of the original printing from 2004 was snapped up by custom home theater installers to give their clients ideas. If you can find one, either on line or in the dusty reaches of a well-stocked bookstore (a breed now as rare as the movie palace), and are interested in the subject, snatch it up immediately. You won't regret it. Mine will never be for sale; I haven't yet fully digested it.
The history of movies themselves has been exhaustively documented. But the history of movie theaters, and the often brilliant entrepreneurs who made them happen through success and sometimes failure, is harder to find. One interesting anecdote from the book involves the early Warner brothers and sisters. You've heard of Warner Brothers, I assume, but likely little of their roots. In 1903 they opened a nickelodeon, the 99-seat Cascade Theater in Newcastle, Pennsylvania. "Sam was the theater's projectionist, Sadye took the tickets, Rose accompanied the films on the piano, Harry and Albert took care of administrative details, and Jack reportedly sang and performed dramatic sketches."
Early movie presentations were often combined with the then dominant form of live theatrical entertainment, vaudeville. But the development of quality theatrical movie presentations is perhaps best linked to a man you've probably never heard of Samuel Rothafel. He appears almost 25 times in the book's index. Rothafel combined movies with appropriate music for the silent films of the era (in some cases by a full orchestra), together with other innovations. His shows, far more compelling than what most of the nickelodeons of the period offered, drew in big audiences. In a few short years, after modest beginnings with his own first theater in the small coal-mining town of Forest City Pennsylvania, his advice was sought after by theater owners across the country. Rothafel is best known by his nickname, Roxy. His influence was prominent for decades, culminating in the early 1930s with two iconic movie palaces in New York City, the Roxy (long since demolished) and the above mentioned Radio City Music Hall, each of them offering nearly 6000 seats. The Roxy came first, but in a later (friendly?) rivalry (probably a show-biz legend) between the two theaters for the claim to the most seats, Rothafel counted every seat he could find in Radio City Music Hall, including the chairs in the dressing rooms!
Similar movie palaces graced major cities (and some minor ones as well) from around 1915 to early in Great Depression of the 1930s. Thousands of them were built , and much of the book is devoted to their stories. But after their heyday in the late 1920s, thousands of them were closed and many demolished. A few remain today, however, including Radio City Music Hall, through uses other than film presentations.
The book also covers the era from the decline of the movie palaces to the near-present detail, reminding us that change, often unexpected, are perhaps the only sure thing after death and taxes. The film and theater business has weathered more than a few disruptions: the introduction of sound in the late 1920s, the Depression, and WWII. The latter cut deeply into overseas revenues, though U.S. attendance of 90 million per week held up, likely helped along by low ticket prices (about 30 cents in 1945, or a bit under $4.00 in today's money) and the need to escape, if only for a few hours, the Depression and later the war.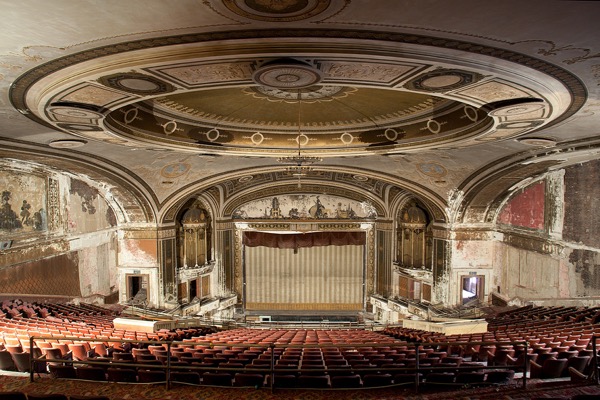 After the war other trials hit the movie industry. In an anti-trust action the studios were forced to divest their studio-owned theaters, once a major source of their income. Then, of course, came television. Technical developments did help soften the blows, including wider use of color, 3D (briefly, despite its popping out periodically over the ensuing decades) and various forms of widescreen — none of which early television offered. The near-modern era also saw the drive-in (less prevalent now, but something of a revelation in the '50s as it was cheap to "build"). Theaters also made their way into another new craze, the shopping center. Then the multiplex, offering multiple screens inside the same facility, largely replaced the stand-alone theaters that dominated the first half century of film exhibition.
The book ends in 2004, but today there's increasing concern about the viability of the movie theater experience after we eventually emerge from the current pandemic. Today's theaters are faced with perhaps the greatest challenge in their history. Most of them have been closed for months, with no revenue coming in but their rent still due (most theaters rent the space or have a mortgage on it; they don't own it outright). When they re-open it's unlikely that audiences will feel truly comfortable until there's an effective Covid-19 vaccine.
But theaters will come back eventually, though perhaps on a smaller scale. They might have new owners. Even if one or more of them go bankrupt, the equipment and infrastructure is still there for someone else to pick up. There's not a huge secondary market for used theater projectors, huge sound systems, theater seats, popcorn machines, and the huge retail footage that their multiplexes occupy.
Older audiences and those with real home theaters (not just a 38-inch TV and a soundbar) may prefer to stay at home and Netflix (soon to become a verb, if it isn't already!). But few families have a home theater setup that can begin to challenge even an ordinary theater much less IMAX or Dolby Cinema. And even if Dad has a knockout home theater, is his 18-year-old going to bring his GF home every time they want to see a movie, with parents and siblings hanging around? I think not. In most smaller or medium-sized cities a movie is still a featured weekend entertainment for those in their late teens or early 20s who made up the bulk of the movie audience even BC (Before Covid). I don't see that changing permanently.