Mitsubishi WS-55813 55-inch Rear-Projection HDTV Page 2
FAST FACTS
DIMENSIONS 50 1/2 x 50 5/8 x 27 7/8 inches
WEIGHT 200 pounds
PRICE $4,499
MANUFACTURER Mitsubishi, www.mitsubishi-tv.com, 800-332-2119
KEY FEATURES
• 55-inch (diagonal) 16:9 screen
• Built-in HDTV tuner
• NetCommand home networking control
• front inputs: FireWire; composite/S-video with stereo audio; 4 flash-memory card slots
• rear inputs: 2 FireWire, DVI/HDCP, VGA (640 x 480 only), 3 wideband component video (one also RGB+H/V), 2 composite/S-video, all with stereo audio; digital antenna/cable, 2 analog antenna/cable, speaker-level center-channel audio, RS-232C serial port
• rear outputs: composite/S-video with stereo audio; coaxial digital audio and stereo analog audio
NetCommand, featured in most of the company's rear-projection TVs, uses the TV as a hub to control a whole rack of A/V gear. The WS-55813 comes with six infrared (IR) emitters - small black pods that attach to your components and relay IR commands sent by the TV - and can also control a few compatible FireWire devices like D-VHS recorders. This arrangement enables you to stash your equipment out of sight and still control most of its functions via the TV's onscreen menus. However, NetCommand's menu-based interface, although helpful for beginners, can be slower and less efficient to use than a well-programmed universal remote control.
User-friendly menus do a good job of making a complex HDTV easy to use. I could name inputs and remove components from the Device menu, which saved scrolling through lots of unused jacks. Icons are used liberally, and each is accompanied by a short explanation that appears at the bottom of the menu.
The back panel of the WS-55813 rivals an A/V receiver with its multitude of jacks. Complementing the ample selection of standard analog inputs are a total of seven digital or high-definition connections (see "key features" box). The WS-55813 lacks a CableCard interface for scrambled premium channels like Showtime and HBO, but if your system uses the QAM transmission format, it will pick up the high-def stations without having to use a cable box. The set found all of the HDTV stations on my Time Warner New York cable feed, and its over-the-air HDTV tuner caught every available high-def broadcaster in the area.
Around front, behind a flip-down door, a quartet of memory-card slots allow the set to display digital photos from CompactFlash, SmartMedia, SD, and Memory Stick flash media. An additional FireWire port and a standard set of A/V inputs with S-video also share the space.
Like most high-def sets I've seen, the WS-55813 will function differently depending on the source. For example, I was limited to only two display modes when watching 1080i (interlaced) high-def programs: Standard and Wide Expand, which stretches the image to remove side bars on 4:3 broadcasts. The Mitsubishi can't display 720p (progressive-scan) signals, so if you have an outboard high-def cable or satellite box, you'll need to set it to convert 720p channels like ABC and ESPN to 1080i. Otherwise, its full suite of six display options was available to me with standard-def 480i and 480p programs.
The picture-in-picture (PIP) and picture-outside-picture (POP) modes were more accommodating. I was able to watch pretty much any two sources, including high-def sources, side by side or one inset into the other.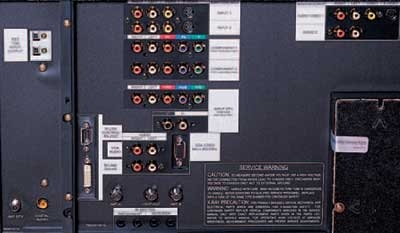 To test this big TV's prowess, I turned to what is possibly the most derivative sequel ever made, Freddy vs. Jason - the eighth Nightmare on Elm St. movie and the eleventh Friday the 13th movie. Fortunately, I'm not here to review the plot, only how the DVD looked on the Mitsubishi.
LATEST VIDEO