Mitsubishi L65-A90 65-inch LaserVue rear-projection HDTV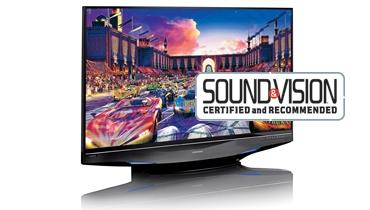 The Short Form
$6,999 / MITSUBISHI-TV.COM / 800-332-2119
Snapshot
Its cabinet depth and its price tag might be hefty, but Mitsubishi's breakthrough laser-driven TV can deliver a spectacular visual punch
Plus
• Dazzling color capability • Very bright picture without detail loss • Low power consumption
Minus
• Deep cabinet compared to flat-panel TVs • No RGB computer input • Pricey
Key Features
• 1080p resolution • 120-Hz display • Deep color/xvYCC display options • 3-D IR emitter • Netcommand (CEC)-capable HDMI inputs • Inputs: 4 HDMI, 3 component- and composite-video, S-video; 2 RF antenna/cable; RS-232 control • 54 1?4 x 39 3?4 x 10 1?2 in, 136 1?2 lbs
Just a couple of years ago, rear-projection TVs were the only game in town if you wanted a really big screen without breaking the bank. But flat-panel sets have since taken over, leaving Mitsubishi and Samsung as the sole guardians of the RPTV flame. RPTVs get a bum rap due to their relative girth as compared to LCD and plasma models. But those extra-bulky cabinets of the past have been slimmed down, with the latest sets measuring only about 2 to 3 times the depth of a similar-size flat-panel. They've even come up with a solution for bulb-replacement hassles: Mitsubishi's Laser TV instead uses a LaserVue light engine, a laser-driven solution designed to last for the life of the TV.
Bulb-replacement issues aside, a key consideration with the LaserVue light engine is its video performance. LaserVue delivers a highly focused beam of pure light, with colors that encompass an exceptionally broad spectrum. That sounds good in theory, but you should bear in mind that HDTV pictures are meant to be viewed using a standard set of color points (known as Rec. 709). Exceeding those points is a bit like turning up the bass and treble on your music system: It might sound more impressive at first, but you're clearly altering the original program. Mitsubishi is well aware of this issue, and the L65-A90 lets you choose between the expanded color points and a more standard setting.
Instead of loading the L65-A90 with all kinds of bells and whistles, Mitsubishi concentrated on features aimed at enhancing the TV's performance. So while you do get a 120-Hz mode to reduce frame judder, along with a host of other picture controls, you won't find picture-in-picture, network connectivity, an RGB computer input, or many other things you might see on other companies' flagship TVs. One small bell (or whistle) is the set's ability to handle 3-D video sources, including a jack for driving a controller for 3-D glasses.
At around 10 inches, this is about the slimmest RPTV I've ever seen; Mitsubishi even offers a wall-mounting bracket for the set. The frame around the screen is as narrow as a finger, so even with its extra-big 65-inch diagonal picture, the front face of the L65-A90 looks no larger than most 58-inch plasma models.
Basic connectivity is fine, with four HDMI and three component-video inputs, plus an RS-232 port for interfacing with third-party control systems like Crestron. There's also a USB input for a flash drive for displaying photos. The remote is essentially the same one Mitsubishi supplies with most of its TVs. Its layout is logical, with the most-used controls falling where you'd expect them, while the buttons are illuminated with a soft blue glow.
In a world that's increasingly concerned about power consumption, Mitsubishi points out that no other big-screen TV is as green as the LaserVue. Typical power use runs around 100 watts, or about a quarter to a third of what a typical flat-panel this big would require.
SETUP
We normally test TVs in our own facility, but the only opportunity we had to test the L65-A90 was at Mitsubishi's corporate offices. A hard reset ensured that the test sample was returned to its out-of-box factory settings, and I was left undisturbed to run any type of tests I wanted.
The set's Natural picture mode, combined with its Low color-temperature setting, provided quite accurate color. As I mentioned earlier, Mitsubishi has leveraged the laser's ability to deliver colors well beyond the standard limits, although this can be controlled by choosing between the Standard, Bright, and Brilliant color modes. Standard is the closest to, well, the Rec. 709 standard, while Bright and Brilliant extend the color range by increasing amounts. I did most of my assessment with color set to Standard, although I did take time to experiment with the extended modes to evaluate their effect.
Other key adjustments include the Deep Field Imager, which was useful for enhancing shadow detail in dark pictures, and SharpEdge, which I ultimately left off. As with other Mitsubishi TVs I've tested, the PerfectColor adjustments made it simple to correct for any color-decoding errors.