Miles Davis SACD
If you've taken your pick of Miles Davis from our "Horn of Plenty" but you'd like to keep celebrating his 75th birthday with something other than your CD player, you're in luck. Columbia has reissued the trumpeter's 1959 masterpiece Kind of Blue as a multichannel Super Audio CD, and its Legacy division has acquired the British TV documentary The Miles Davis Story for DVD-Video.
Unfortunately, I can't give star ratings for the DVD because, at press time, I could secure only an advance screener on VHS. But I can tell you that the two-hour documentary, first shown in April on BBC's Channel 4, is a compelling, personal look at both Miles the artist and Miles the man. Some fans may argue that the lens focuses too much on the latter. They may also take offense that this singular American is being profiled by an Englishman and a Scot: producer/director Mike Dibb and program consultant Ian Carr. It's true that some of the choices here are, well, interesting. Relatively long segments are devoted to Davis's brief trips to Paris. And while I appreciate the attention given his often-overlooked later years, I don't appreciate that the filmmakers, in getting to those years, had to zip by earlier landmarks like Birth of the Cool and In a Silent Way.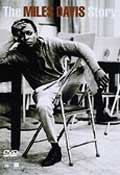 Still, The Miles Davis Story makes no pretense of being a critical biography. The music does matter, of course, but so does the "mystique," to quote Clark Terry, one of Davis's first mentors. Terry is interviewed here, as are many other musicians: Jimmy Cobb, Shirley Horn, Herbie Hancock, Ron Carter, Jack DeJohnette, Dave Holland, Chick Corea, John McLaughlin, Josef Zawinul, Bill Evans, Marcus Miller, John Scofield, Dave Liebman. There's family, too, including Irene Cawthon, Davis's first girlfriend and the mother of his first three children; Cheryl Davis, his daughter; and Fran ces Da vis, his first wife. And Miles is here as well, in segments from the late-1980s, sounding as elliptical as always.
To the credit of Dibb and Carr, that mysterious ghost has a real presence throughout The Miles Davis Story. In one of my favorite segments, Corea recalls Davis once showing him how to play three triads. Corea demonstrates on a table, but you hear the triads in the soundtrack. It's as if Davis is there, ever remote but ever watchful.
---
LATEST VIDEO