Media Preview: Cutting-Edge Receivers, Tube Headphone Amp and More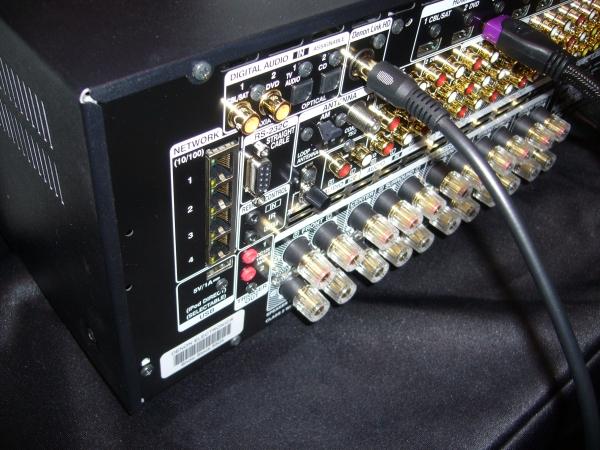 The CEDIA Media Preview also featured some surround electronics and other items. Here they come:
The Denon AVR-4520 is one of the few surround receivers with four, count 'em, four ethernet inputs. Plug your router into one and you can use the other three to feed your ethernet-hungry Blu-ray player, streaming box, etc. This brawny receiver boasts 150 watts times nine for $2500.
Marantz unveiled the AV7701 preamp-processor. For $1700 it'll provide the same feature set as the SR7007 receiver, minus the amps. The Marantz UD7007 universal disc player earns its $1200 pricetag by giving special attention to the analog stereo output which is fit to feed the fussiest stereo preamp, though of course it'll also communicate with your surround system via HDMI. The curving wood enclosure of the Marantz Consolette wireless/docking system gleamed enticingly.
Cary Audio bowed two headphone amps, one for each of its two brands. The Cary HH-1 uses tube amplification while the Audio Electronics Nighthawk uses solid state. Pricing is $1595 and $1195 respectively.
Tributaries is overhauling its HDMI cable line with the new Series 6. It has a totally new design including connectors, cosmetics, and everything else. While pricing is not yet set it'll probably come in somewhere between the existing Series 5 ($55 for one meter) and Series 8 ($100 for one meter). Also shown were the PWRI Pro, which offers two outlets worth of surge suppression, filtering, and over-/under-voltage warnings for $200.