Marantz Celebrates its Hi-Fi Heritage with New CD Player and Integrated Amp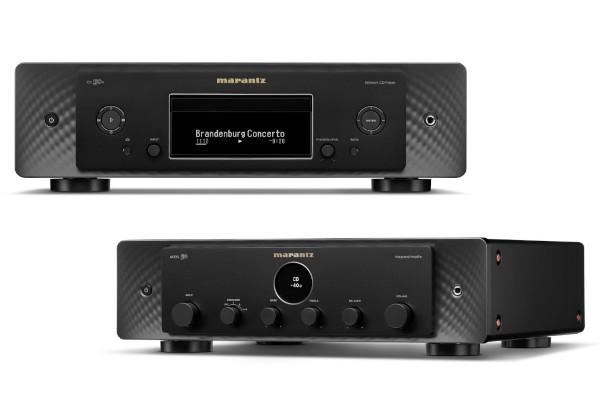 Marantz today introduced a pair of classic stereo components that celebrate its roots as a hi-fi pioneer.
The new CD 50n network CD player and matching Model 50 integrated amplifier are the latest models in an ever-expanding lineup of stereo gear that now includes five CD players and seven integrated amps. Each of the new models sports the unique faceplate design Marantz has transitioned to over the past couple of years and sells for $1,800.
Marantz hails the CD 50n "one of the most flexible CD players ever created" — one combining a high-quality disc player and streamer in a single component featuring 32-bit ESS Sabre digital-to-analog converters (DACs) and Marantz-designed filters that serve all forms of digital audio, whether arriving over the internet or originating on CD or SACD.

Streaming is handled through the app-controllable Heos streaming platform developed by Marantz sister-brand Denon. In addition to Wi-Fi-based high-resolution streaming, the player supports streaming via Bluetooth and AirPlay 2 and provides ready access to Spotify, Tidal, Amazon Prime Music, Pandora, and other music services. It's also certified as Roon Ready for use with the popular subscription-based music management software and supports voice control via Amazon Alexa.
The CD 50n is equipped with a generous set of connections that includes a headphone output with its own dedicated volume control, fixed and variable analog RCA outputs, optical and coaxial digital inputs and outputs, a S/PDIF input that supports resolutions up to 24 bits/192 kHz, an ARC-enabled HDMI input for TV hookups, two USB ports, and RS-232 and Ethernet connectors. High-resolution audio is also supported via USB (up to PCM 32 bits/384 kHz and DSD 256).
A Perfect Mate
Featuring an all-analog design, the Model 50 draws inspiration from its higher end sibling, the Model 40n integrated amplifier that netted a Sound & Vision Top Pick last year. Like the 40n, the Model 50 boasts a high-current Class A/B power section rated to deliver 70 watts/channel and featuring a "substantial toroidal power supply and carefully laid out internal signal path topography designed to minimize impedance losses."

The amplifier also incorporates the latest iteration of Marantz's low-distortion HDAM (Hyper Dynamic Amplifier Module) technology and features front-panel bass and treble controls in addition to six analog inputs, a moving-magnet phono input, and stereo preamp output.
For more information on the Marantz CD 50n, visit Marantz.com. Click here for more on the Model 50 integrated amplifier.