Loewe Aconda 38-inch HDTV Monitor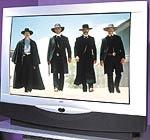 You know your life is out of balance when the best looking thing around you is the TV - and it's not even turned on! That was the predicament I found myself in when reviewing the Loewe (pronounced "Loo-va") Aconda widescreen HDTV monitor. Maybe the set looks so good because Europeans (Loewe is based in Germany) have an evolved design sense. Or maybe it's because in a market dominated by giants like Sony, RCA, and Mitsubishi, a newcomer to these shores like Loewe needs to go the extra mile to grab your attention. Whatever the reason, the Aconda looks more like a sculpture than an appliance, which is a possible reason for its hefty $5,000 price tag.
The direct-view Aconda has a 38-inch (diagonal) picture tube. This makes it the largest widescreen direct-view TV available now that RCA's popular F38310, which had the same size screen (in fact, the same picture tube), has been discontinued. Like the RCA, the Aconda has a curved rather than flat screen surface, so you'll need to carefully control lighting conditions in your room to avoid onscreen glare.
Aconda sets are available in standard matte-black or optional metallic or piano-black finishes. My review sample was the metallic model, which, depending on lighting conditions and your viewing angle, has a luminous color fluctuating between silver and gold. Other than a raised ellipse with an infrared (IR) window, its sleek front surface is devoid of features. The ellipse flips open to reveal a full set of A/V inputs, a headphone jack, and buttons to turn the set on and switch channels. Inputs on its rear panel include one set of wideband component-video jacks and one VGA input, which can be used to connect either an HDTV tuner or a computer.
The Aconda's audio features are fairly extensive compared with most TVs. Two 12-watt amplifier channels power its four speakers, and it has output jacks to connect an additional pair of speakers. In addition to both variable- and fixed-level stereo outputs, the set has a built-in analog-to-digital converter and a coaxial digital audio output, which you can use to connect the TV to your A/V receiver's digital input.

In The Lab
---