Linksys Demos Killer Gaming Router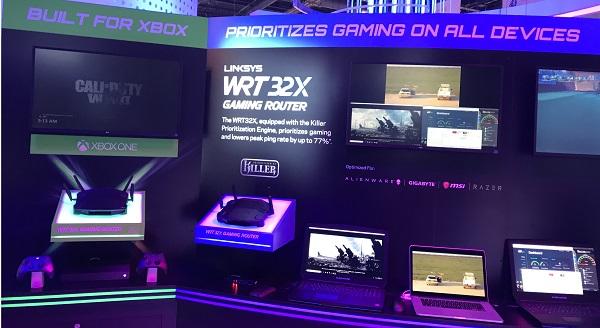 Ask any hardcore gamer and they'll tell you that the difference between waxing a ton of noobs and getting fragged by another vet is speed. Twitchy finger speed on the controller and speed of your internet connection. And sometimes all it can take between a Call of Duty win or loss is a 10 millisecond difference caused by latency in your router. Linksys' new WRT32X router aims to put you in the winning circle with its Killer Prioritization Engine.
While this AC3200 dual-band Wi-Fi router would make a terrific router for any application – streaming 4K videos, YouTube, Skype, even email – it has been exclusively built with serious gamers in mind. It's 1.8 GHz dual-core CPU automatically detects gaming data and prioritizes them over all other traffic, reducing peak ping times by up to 77%. That will mean your frames get through faster, giving you an edge to drop a baddie before they can line-up on you.
For optimal functionality on PC play, the router synchronizes with Killer-enabled PCs from brands like Alienware, Gigabyte, MSI, and Razer. However a new model is available under the "Designed for Xbox" label that will automatically detect an Xbox One and prioritize gaming traffic for that console. Even the user interface has been designed with gamers in mind, letting you quickly see and check the speed of the home's Internet traffic, check VPN and network storage status, see Killer device connection, and ensure everything is configured and performed to its max potential.
Other features include four Gigabit Ethernet ports, an eSATA port, and a USB 3.0 connection. Plus the four high-power antenna array should be enough to cover most homes with uber-fast Wi-Fi coverage. The WRT32X has been designed to help gamers dominate the competition, and it is available now for $299.