LG to Introduce HDR-Enabled 'Super UHD' TVs, Show 8K TV at CES 2016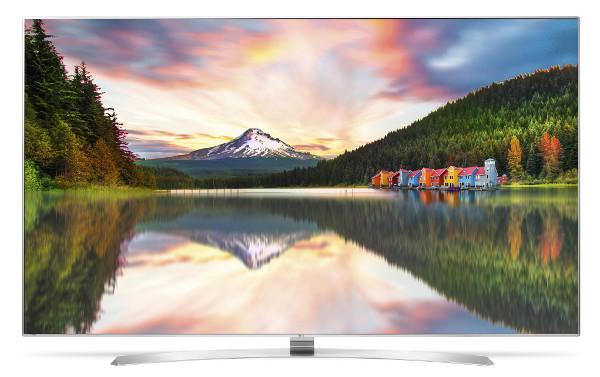 Not to be outdone by Samsung's "SUHD" TVs, LG announced that it will introduce a new line "Super UHD" TVs at CES 2016, which opens Wednesday in Las Vegas.
Hailed as delivering LG's "most advanced LCD/LED picture quality ever," the line will feature high-dynamic range (HDR) and expanded color capabilities in the brand's Flat Ultra Slim form factor featuring a screen that is 0.2 inches thick.
LG said it will also unveil its first production-ready 8K Super UHD TV, the 98-inch model UH9800.
Based on an "advanced IPS display," the Super UHD line will introduce proprietary True Black technology, said to minimize reflections and enhance contrast ratio, along with contrast maximizing processing said to enhance apparent depth and contrast by separating objects from their backgrounds.
Super UHD models will carry the "HDR Plus" designation to indicate their ability to display 4K HDR content "with a greater sense of reality" thanks to new technologies said to boost peak brightness and improve black-level and HDR performance. The sets will also include SDR-to-HDR conversion for "near-HDR content from any standard source."
The new line encompasses three series of TVs: UH9500 in 55- to 86-inch screen sizes, UH8500 in 55- to 75-inch screen sizes, and UH7700 in 49- to 65-inch screen sizes. Some of the new models will be available in early spring, according to LG.
Color Prime Plus technology included in UF9500 and UF8500 series TVs uses a thicker color filter and new LCD phosphors to achieve "approximately 90 percent of the Digital Cinema Initiative (DCI) color space." The sets also boast 10-bit processing.
In addition to the newest generation of LG's webOS Smart TV platform, all Super UHD models include a sound system developed with Harman/Kardon that measures and analyzes room acoustics and makes adjustments to the sound.
Sound & Vision's CES coverage begins Tuesday, January 5. Watch for more detailed coverage on LG.