LG Expands its 4K Ultra HDTV Offerings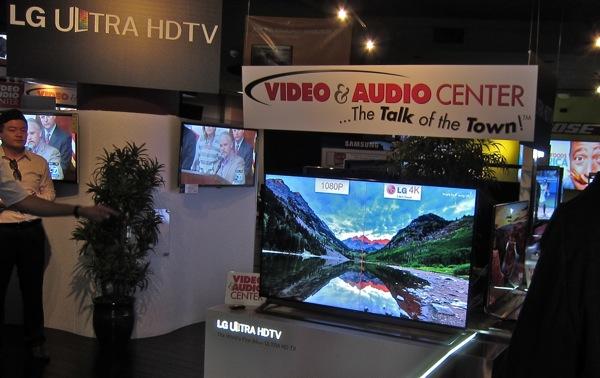 On July 11, LG Electronics launched its latest 4K Ultra HDTVs at the Video & Audio Center, a major electronics retailer in Santa Monica, CA. The new LA9700 series includes two models, at 55- and 65-inches (diagonal) and selling for $6,000 and $8,000, respectively.
Apart from the higher available pixel count (3840 x 2160, or four times the number of pixels found in today's "standard" HDTV system), the new sets incorporate LF's Nano technology. The key Nano feature is full backlit local dimming for improved black levels. Most of the LED illuminated, local dimming LCD sets currently on the market—including LG's own 84-inch, $20,000 UltraHD flagship—use edge-lit local dimming. In our experience, the state of the local dimming art clearly lies in full array backlighting, not edge-lighting.
The sets also include a built-in H.265 high-efficiency video coding (HEVC) decoder. This may offer compatibility with future 4K sources that might make use of this video compression scheme, though it's not yet clear if H.265 will be adopted for 4K applications, or if it's fully up to the task. While not specifically stated, the set's HDMI inputs appear to be HDMI 1.4a. HDMI 2.0 is not yet available from any manufacturer, and upgrades from 1.4a to 2.0 would involve hardware changes, not simply firmware. (HDMI 1.4a can handle 4K at 24 and 30 frames per second, which includes most of our current HD source material and likely most consumer 4K sources as well, but it cannot carry 4K at 60fps.).
Other features include a unique built-in soundbar that slides out automatically when the set is turned on and retracts when it's off. There's also a woofer located on the back of the set (like many flat screen manufacturers, LG refers to this as a subwoofer—a bit of a stretch, at best).
While it was impossible to evaluate the picture quality of the new LG 4K sets under typical showroom setup and lighting conditions (though the Video & Audio Center's lighting is more subdued than in your usual big-box showroom), we look forward to reviewing one of these sets and testing how effectively it upconverts our current 1920 x 1080 HD source material to 3840 x 2160. At present, the fly in the 4K soup remains the dearth of true 4K consumer content, with little (visible) movement toward providing more.