LG Announces HDR-Ready OLEDs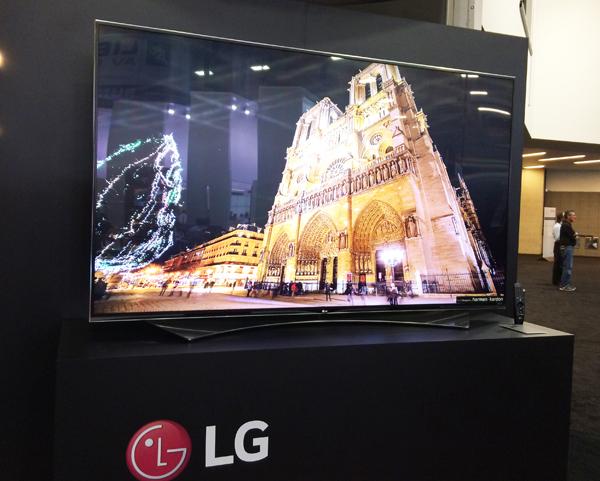 LG Electronics is showing an expanded line of OLEDs at the CEDIA Expo, including aggressive pricing for new 4K models with HDR (high dynamic range) capabilties and a new 55-inch entry level 1080p model that'll sell for less than $2,000 this holiday season.
LG says it has tripled the number of OLED models it offers in less than a year, and now offers both curved and flat screens in a mix of Ultra HD and full HD 1080p entries. Pricing has been dropped 30 to 45 percent for some models thanks to LG hitting some manufacturing volume milestones, which the company hopes will begin spreading its OLED technology to a broader audience.
The EF9500, a new series of flat (non-curved) Ultra HD models, is the first of the OLEDs to offer full HDR compliance, specifically with what execs called the "open" HDR standard adopted by the Consumer Electronics Association—which includes the HDR10 Media Profile. The EF9500 (photo above) will recognize and accept HDR-encoded signals both from its internal streaming platform and from external sources presented to its HDMI 2.0a inputs. The 55-inch 55EF9500 has a $3,999 list price and will sell for $2,999 after a $1,000 instant rebate good through end of the year, while the 65-inch 65EF9500 will list for $5,999 and sell for $4,999 with the rebate program.
The company's existing EG9600 Art Slim curved models, meanwhile, are getting a firmware update to enable HDR capabilities from their on-board streaming platforms only (the sets' HDMI 2.0 ports can't be updated with firmware to recognize an HDR-encoded signal). Pricing has been vastly reduced, dropping $1,500 in the 55-inch EG9600 to $3,999 list or $2,999 after the $1,000 rebate good through 2015. The 65-inch EG9600 has been reduced $1,000 to $5,999 list, or $4,999 with the rebate.
It's worth noting that LG's OLED sets, while HDR-compliant with the CEA standard, don't yet offer compliance with another key featured expected to be present in next-gen UHD content: wide color gamut. The sets' color palette tops out at just 13 to 15 percent beyond today's Rec.709 standard.
The new 55-inch entry level model is the curved screen 55EG9100, with 1080p resolution. It's priced at $2,499 list, coming down to $1,999 with a $500 rebate that goes active October 18. It's predecessor, the 55EC9300, is now available at $1,799 while supplies last.