LG 47LH55 47-inch LCD HDTV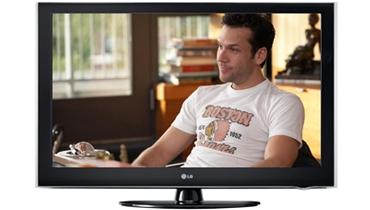 A little more than a year ago, I reviewed LG's 47LG60, a 47-inch LCD HDTV that I recommended primarily for its outstanding color, crisp and noise-free picture, and unique "Scarlet" styling. That set had a street price of $2,600, admittedly expensive even for its day. Now here comes the 47LH55, another 47-inch LCD that further improves on picture quality, offers its own unique styling, and sells for less than $1,500. Can you say "bargain"?
The 47LH55 strikes a classy, distinctive pose, and also offers a unique twist on the now all-too-common high-gloss black bezel. The frame's top and bottom lean back slightly to give the set some contour, while the sides and bottom feature a tasteful beveled Lucite surround jutting off the bezel's edge. In keeping with the contoured theme, the frame's bottom has a rounded bulge with a curvy LED ribbon light to indicate power status: blue for On, red for Off, and a slowly pulsing red for Standby. The scallop-shaped gloss-black base lets you swivel the screen's position.
Basic controls for power, input, volume/channel, and menu access are on the TV's right edge, while the left side features a convenience jack-pack with one of the set's four total HDMI inputs, a composite-video input, and a USB slot for viewing slideshows from a flash drive. The rear panel holds the remaining HDMI ports, a pair of component-video inputs, and connections for composite-video, RGB, RF antenna, and RS-232C hookups.

LG's remote is a barebones plastic affair with a crackled, fingerprint-proof surface. Despite its lack of backlighting, I mostly liked it for its thoughtful layout and inclusion of only the most useful buttons. The Menu button lies above the thumb-friendly navigation cluster, and there's also a Quick Menu button that brings up a circular menu to scroll through aspect ratio, picture mode, and a few other functions. "Aspect ratio" options include 16:9 and a Just Scan "pixel-to-pixel" mode, as well as two Zoom modes and a 4:3 setting. Unfortunately, the oft-used Input button, while easily found at the far upper right corner, was awkward to reach with my thumb.
SETUP
The 47LH55 has an extensive mix of picture presets. Of the nine total modes, Cinema and Expert 1 and 2 offer the best out-of-box image. The two Expert modes feature the most extensive options for tuning the picture, so I went with one of these for my evaluation. The default picture here looked very good indeed, though I did crank up the backlight a bit to achieve a little more brightness and punch and to give myself increased range for contrast adjustment.
The set's out-of-box grayscale (the range of gray tones at varying brightness levels extending from black to white) ran a bit blue of the neutral gray we strive for, but it measured close enough that most enthusiasts could get by without having to pop for an expensive professional calibration (see Test Bench for details.) Still, I was able to improve it using test instruments and the TV's unique white-balance controls. The menu here lets you tweak the levels of red, green, and blue at 10 different brightness settings, and a new feature also lets you carry the adjustments over to other inputs. The 47LH55 offers both saturation and tint control for all primary and secondary colors, but I barely needed them to bring the color balance perfectly in line with industry specs.
I viewed both test patterns and regular programs to arrive at my preferred menu settings for black level (low) and gamma (low), and engaged the TV's Real Cinema mode, which switches on 2:3 pull-down processing for movies and should be left on all the time. I also set the TruMotion 240-Hz mode to its low position. TruMotion combines the TV's 120-Hz refresh rate with a backlight scanning function to provide a 240-Hz display effect. It proved outstanding at smoothing image judder on pans or sweeping camera shots, and vastly reduced blur on fast-moving objects. But it also had the somewhat unwelcome result of making film-based programs look a bit like they were shot on video.
LATEST VIDEO