Let Me Count the Ways I Love My New TV, Part 2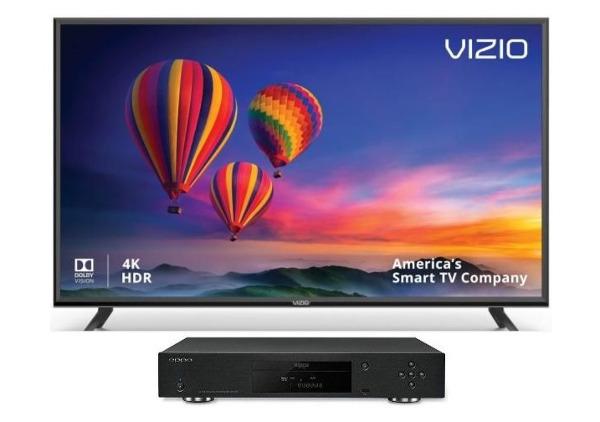 Last month
I discussed the shopping expedition that led to a
Vizio E43-F1
taking up residence on my TV table. In this follow-up I'll talk about how the set has worked out and about other changes to my reference system. Because a 43-inch model is unlikely to be reviewed, here or elsewhere, I'll go into as much detail as my competence allows. However, this is not a formal review; we have better qualified people for that.
The E43-F1 looks better than any $400 set has a right to. Out of the box, it looks great. True, the full-array local dimming still leaves weak corners in a field of pure white, and motion performance from what is probably a 60 Hz panel (according to internet chatter) is mediocre. But most of the time I don't notice these things and I'm guessing this 43-inch VA panel looks a lot better than an edge-lit 43-inch IPS panel would look. The Vizio is, in every respect, an improvement over the 10-year-old LCD TV it replaced.
I have chosen the Calibrated Dark preset, Normal color temp (the lowest setting and probably closest to 6500K), and middle settings for Gamma and the room-sensitive Auto Brightness Control. All picture controls are set at (or close to) the halfway mark except for lower backlight and sharpness settings.
All other picture enhancements have been turned off. Black Detail is too much of a good thing at any setting. Xtreem Black Engine causes scene-to-scene flicker as it seeks the supposedly ideal balance, with auto brightness on or off, though I may revisit that one when I get access to HDR content. The set uses a flashing backlight to reduce motion blur, and there is an additional layer of this in the Clear Action mode. I choose not to use Clear Action, preferring not to spare my eyes and brain the strobing effect to the extent possible. I'm already wacky enough, most people seem to agree. I should add that I haven't noticed any eyestrain or headache after extended hours of viewing. Call it an excess of caution.
My New Oppo
I haven't had a chance to use Dolby Vision HDR or even HDR10 but I have upgraded my beloved eight-year-old Oppo BDP-83 SE universal disc player to a UDP-203, an Ultra HD model with both of those forms of HDR. As fate would have it, I ordered the new Oppo just a few days before the company announced it would stop making new products. Have I snagged a great new player at the eleventh hour or condemned myself to a product that won't be supported? The UDP-203 has been around for more than a year, so the major bug fixes are probably done. Oppo promises to keep providing software updates, at least for a while, and repair service, probably for as long as parts last. On the whole, if I could do it again, I would.
The new player doesn't have Oppo's top-line Special Edition analog output but I'm keeping the old BDP-83 SE around for that. My secondary Blu-ray player and streamer, a six-year-old Panasonic DMP-BD87, has found a new home. It has gotten banged up a bit, as it has moved onto and off the rack, and I am pleasantly surprised by its longevity. At this writing I haven't had a chance to watch a UHD Blu-ray disc, in part because Netflix won't rent me one. Netflix, please fix this fast.
The new TV has given me my first taste of Chromecast. Vizio is the only TV manufacturer to support Amazon Prime Video through Chromecast. I can initiate a Chromecast stream using phone or tablet apps that support the platform. Once the stream starts, it continues independently of the mobile device that started it, so I needn't worry about the battery running down. My roommate, who watches J-pop videos on his tablet, is thrilled that he can stream them to the Vizio. I am thrilled that he is thrilled.
I still use my just-purchased Roku Express streaming box. I could upgrade it to a UHD/HDR model, but upgrading to UHD Netflix would add to the bill (which someone else pays). As things stand now, the HD box looks decent much of the time, but I often see the picture shifting between high-def and standard-def (or worse) when my network connection is stressed. I'd prefer to watch UHD/HDR uncompromised, on disc — or not at all. At least for now.
Digging ARC
Because the Vizio is my first Audio Return Channel compatible TV, I can now use ARC's bidirectional stream to make the HDMI cable connecting the TV and surround receiver do double duty. It can route AV signals from the receiver (and anything plugged into it) to the TV. But it can also route audio signals from the TV (and anything plugged into it) back to the receiver and its surround processor. With the Roku and cable boxes plugged into the TV, that gives me the welcome option of playing audio through my designated TV speakers or using the heavy artillery of the receiver and my chunky monitors. Progress! I can also review ARC-compatible soundbars and soundbases as they were intended to be used — that was one of the triggers for the TV replacement.
Another audio-related change to the system isn't really a change at all. I've replaced my TV speakers, an old and now defunct pair of Audioengine 2 mini-monitors, with a new pair of Audioengine A2+ (the new version has Bluetooth and a USB input in addition to analog-in). The old pair were powered up continuously for 10 years and have suffered from hotwiring abuses and accidents (over time, with my system's cables in constant disturbance, things come loose). I might have tried something new, but I've always said the AE2 is the greatest pair of TV speakers ever and I'm happy to take my own advice. I don't want that part of my system to change.
Between the new Oppo and the new A2+, I've spent twice as much on accessories as on the TV itself. The irony is not lost on me.
Controlling the Vizio is mostly a pleasure. The manufacturer prefers to emphasize the SmartCast app, but I'm more of a remote control guy than an app guy, so I'm adapting to the new wand. Although it is reasonably attractive and well organized, it is imperfectly made — is a slight sensation of cheap plastic buckling when I press certain buttons. However, I like Alexa better than I like apps, and I'm thrilled to speak power and input commands without picking up any physical object. Once I've finished tweaking the TV, I might go weeks without touching the remote.
I have noticed a peculiar interaction among the TV, its input names, source components, and Alexa. When I set up the TV, for reasons that are self-explanatory, I painstakingly renamed the HDMI inputs "HDMI-1 receiver," "HDMI-2 cable," and "HDMI-3 Roku." Since then, the first and third have been automatically renamed "AV Receiver" and "Roku," eliminating the HDMI numbers — much to my annoyance, since keying in my preferences was like breaking rocks. If I corrected the input names, some mysterious force would change them back. But Alexa recognizes them only under their original out-of-the-box names, "HDMI-1," "HDMI-2," and "HDMI-3." Tricky, tricky.
So am I a happy camper? Perhaps the thing I like best about the Vizio is something I hadn't anticipated — and that is how beautifully it upconverts plain old HD to Ultra HD. With 1080p Blu-ray from either of the Oppos, or 1080i from my Spectrum cable box, the picture is realistic enough to suspend disbelief and draw me into a story. That is my subjective standard for effective home theater. Yes, I'm a happy camper.
Mark Fleischmann is the author of Practical Home Theater: A Guide to Video and Audio Systems, available in both print and Kindle editions.