Krell S-300i integrated stereo amplifier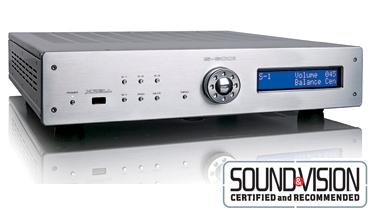 The Short Form
$2,500 / KRELLONLINE.COM / 203-298-4000
Snapshot
A great-sounding, reasonably priced analog two-channel integrated amp from a high-end brand that many people thought they would never be able to afford - and it's got an iPod interface, too
Plus
• Exceptionally clear and vivid stereo music reproduction • Included iPod interface with remote control • Surprisingly affordable for a Krell product
Minus
• No subwoofer output • Rather deep chassis
Key Features
• 150 watts per channel into 8 ohms • Included iPod interface • Aluminum remote can control other Krell gear and iPod • Theater pass-through mode • Inputs: 3 unbalanced stereo RCA, 1 unbalanced XLR, iPod cable, 3.5-mm jacks for 12-volt trigger in/out and IR in, RS-232 • Outputs: stereo speaker connectors, unbalanced stereo RCA line out • 17¼ x 4½ x 17½ in; 43 lb
A fashion designer once said, "Dress the classes, live with the masses. Dress the masses, live with the classes." Recently, Krell seems to have embraced this maxim. Audio enthusiasts know the company mainly for making some of the world's most extravagant amplifiers, such as the $50,000-a-pair, 450-watt Evolution One. But its latest product, the $2,500 S-300i integrated amplifier, aims for a completely different (and potentially far more lucrative) group of customers.
The S-300i differs from most Krell products - and most other high-end audio products, for that matter - in that it seems designed to complement normal living environments. At slightly over 4 inches high, its profile rides as low as that of many mass-market DVD players. With only eight tiny buttons and one knob on the front, it looks far more elegant than a typical over-festooned A/V receiver. The S-300i will draw no stares, and I consider that to be a refreshing change from typical high-end audio products, many of which are styled to call attention to their owners' exotic taste in gear.
Krell also designed the S-300i to complement normal listening habits. While audiophiles love turntables and high-end CD or SACD players, average listeners these days gravitate to computers and iPods. To accommodate the tastes of the masses, Krell included an iPod cable. But this isn't a typical stereo cable that plugs into the iPod's headphone jack. Instead, it has a multipin connector that interfaces directly with the iPod's internal electronics. The S-300i's remote even offers rudimentary control of the iPod; you can start it, stop it, and skip tracks.
The S-300i presents so few buttons because Krell has engineered many functions into a menu system. You access the menu through the volume knob, a menu button, and an alphanumeric display. You can use the menu to control balance, input and balance trim, input naming, and several other lesser functions. It can also activate Krell's Theater mode, which lets you use the S-300i to handle the left and right channels of a surround sound system while a surround sound processor or A/V receiver handles all of the other channels.
You can tell from a glance that the S-300i is more robust than any A/V receiver. Even though it has only two amplifier channels, it weighs 43 pounds -more than a lot of receivers with seven amp channels. The chassis is rock-solid and beautifully manufactured. All jacks attach directly to metal panels rather than to a circuit board, which makes them more rugged and reliable. Touch the power button and your room lights will likely dim as the huge capacitors in the S-300i's power supply charge up.
SETUP
Because the S-300i is a two-channel analog product, setup is simple. Just connect two speakers, plug in a few audio sources, attach the iPod cable, and hit the power button. You might want to get into the menu system to name the inputs or tweak the balance setting, but none of those functions is essential.
The one setup complexity that the S-300i poses involves the Theater mode, which requires you to go into the menu and select which input you want to designate for it. Once you connect the front left and right line-level outputs from your receiver or surround processor to that input, you calibrate the levels using the receiver's test tones. To enter Theater mode, just select the input you chose in the menu system. This mode bypasses the S-300i's volume and balance controls. It's a lot like hooking up an external amp.
The downside to the Theater mode is that it occupies one of the S-300i's inputs. The upside is that you can use the S-300i to listen to any stereo source connected to the receiver.
Krell left off one feature that would have made setup easier for me: a subwoofer output. Lots of audiophiles use subwoofers now, but anyone who wants to use one with the S-300i might face a complicated cabling job or the addition of an external subwoofer crossover. A sub output isn't a common feature on stereo integrated amps, but it belongs on a forward-thinking design like the S-300i.
One other caveat: While the S-300i's low profile helps it fit into spaces too cramped for most Krell products, its 171?2-inch depth might leave it hanging off the front or back of some shelves and racks.