Klipsch Thinks Systematically, Expands Wireless Lineup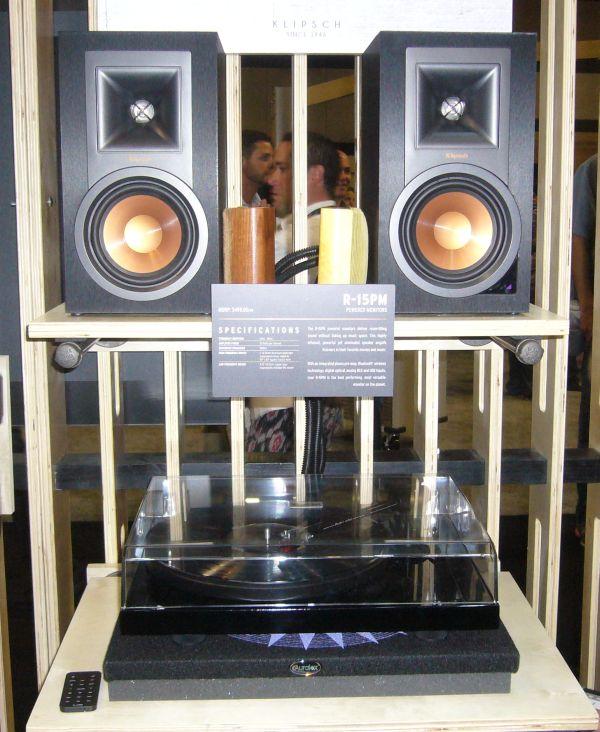 Klipsch is expanding its recently introduced Reference Premiere speaker line by adding new wireless powered models and piecing them together into full systems.
Shown is a two-channel system based on the R-15PM active monitor ($499/pair). It combines 50 watts per channel with comprehensive connectivity including phono and USB audio inputs as well as the usual digital and analog ins. No, that's not a Klipsch turntable. It's a Pro-ject. But it's the thought that counts.
Klipsch's Reference Premiere HD Wireless Systems are armed for home theater with a 5.1-channel configuration that brings together the RP-440WF towers, RP-440WC center, and RP-140WM monitors, all of them active models. The heart of the system is a Wireless HD Control Center which is described as "your next AVR." It includes HDMI times four, HDMI ARC, coaxial digital and analog inputs plus Bluetooth aptX. The full system goes for $5100. A monitor-based two-channel version would start at $1500.
Incidentally, the WiSA standard is also supported by other speaker manufacturers and is in the process of becoming a major player in the move to make everything wireless.
Klipsch also has a new Pro line whose distribution will be limited to the CI community. The PRO-7800-L is a THX Ultra 2 certified in-wall for $1665/each. The PRO-6800W ($999/each) is one of the rare Klipsch speakers not to feature a horned tweeter. Also shown was the RP-280FA, a Dolby Atmos enabled tower with a full two-way driver array emitting height effects from the top of the enclosure. The speaker was previewed in New York in August.