Klipsch Goes All The Way With DTS Play-Fi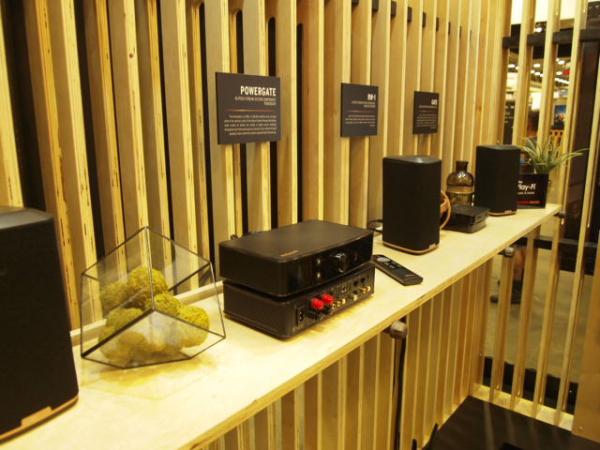 Klipsch Audio launched its first six wireless-multiroom audio products during CEDIA 2016, all with DTS Play-Fi multiroom technology and all eschewing a plastic look for such materials as real wood, metal, copper, and leather.
Because they use DTS's Play-Fi technology, the products in the Klipsch Stream Wireless Multi-Room Audio series can be mixed and matched with Play-Fi-equipped products from other brands. Brands offering Play-Fi products include Anthem, Arcam, Autonomic, Definitive Technology, Fusion Research, MartinLogan, McIntosh, Paradigm, Phorus, Polk Audio and Wren. Additional brands also plan to offer Play-Fi products.
Play-Fi systems use smartphones and tablets as remote controls that direct music from Cloud-based music sources, from PCs, and from smartphones and tablets over Wi-Fi to tabletop speakers and sound bars throughout the house. Play-Fi was upgraded recently to stream high-resolution files up to 96kHz/24 bits with no down-sampling. And a new 5.1 surround-sound feature enables two powered Play-Fi speakers to be used as surround speakers when paired with a Play-Fi sound bar.
The Klipsch contribution to the Play-Fi ecosystem consists of an active tabletop mono speaker, two sound bars, a streamer that connects legacy audio systems to a Play-Fi network, a USB DAC/amplifier with phono preamp, and a tabletop stereo system with a mid-20th-Century look. All feature Wi-Fi 802.11n and ac to enhance audio performance, and some also feature Bluetooth.
The lineup includes the $249-suggested RW-1 30-watt mono two-way speaker, two of which can be paired wirelessly to deliver stereo. The Three tabletop stereo system at $399 features wood veneer and cane grille for a mid-20th-Century look. It also features 192kHz/24-bit decoding, USB input to connect USB audio sources, and a phone preamp that lets consumers stream music from a connected turntable to Play-Fi products around the house.
The $499 PowerGate combines Play-Fi streaming, 2x100-watt Class D amplifier, and a host of other inputs, including USB audio, optical input, and analog RCA.
The $179 Gate streamer adds Play-Fi to an existing sound system and features a 3.5mm analog input.
The two sound bars with Play-Fi are the $499 RSB-8 and $699 RSB-14, both of which will get a firmware upgrade in December to enable Play-Fi speakers to be used as surrounds. Both sound bars are part of a group of four new sound bars that are Klipsch's first sound bars with HDMI inputs. All four feature Dolby Digital 5.1 decoding and virtual surround.
All Klipsch Stream products will be available in October except for The Three, which is due in November.