Kansas City Maker Faire Made Great Geeky Fun For All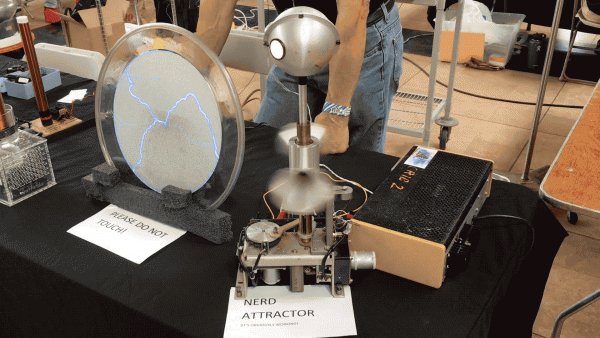 Over the weekend, I attended the
Maker Faire Kansas City
. I'd never been to a Maker Faire before, although I've wanted to attend one for quite a while. A couple members of my family asked me to explain what a Maker Faire is; and, even after spending two incredibly interesting days wandering the halls and grounds of Kansas City, Missouri's beautiful and historic Union Station, I'm still trying to figure out how to describe it. The Maker Faire folks put it this way:
Maker Faire is a gathering of fascinating, curious people who enjoy learning and who love sharing what they can do. From engineers to artists to scientists to crafters, Maker Faire is a venue for these "makers" to show hobbies, experiments, projects.

We call it the Greatest Show (& Tell) on Earth — a family-friendly showcase of invention, creativity, and resourcefulness.
I'd add that it's one part Renaissance Festival, one part crafts show, one part furry convention, one part school science fair, two parts computer and robotics education camp, another part animal and insect husbandry, and part low-tech survival skills, all with a bit of geeky technology flair thrown into the mix. Maker Faire's have been around since the editors of Make:magazine hosted the first one in 2006 in the San Francisco Bay Area. Today, Maker Faires are held in cities around the world. Just over the course of the next three months (June, July, and August), for example, Maker Faires are scheduled to occur in places as diverse as: Sheboygan, Wisconsin; Glasgow, Scotland; Trieste, Italy; Trondheim, Norway, Petaling Jaya, Malaysia; and Hangzhou, China.
There's a common misperception about states like Missouri — smack dab in the middle of flyover country — that there's not much to see here but cows and corn. Although it's true that there are plenty of cattle and even more corn, there's much more to this part of the country than that. The majority of the 200 or so exhibitors were from Missouri and Kansas, and there was so much enthusiasm among them that they found ways to make scented candles, wig styling, pen turning, soil additives, and screen printing both interesting and exciting. Here are a few of my favorites, beginning with Steve Siegel, Senior Research Design Engineer at the University of Missouri — Kansas City, playing the "Pirates of the Caribbean" theme song on his personal musical Tesla coil.
Somehow I missed a demonstration of a homemade, six-feet tall, solid state musical Tesla coil that's said to produce arcs up to ten-feet long (and over 1 million volts) built by Electrical Engineer Dan Grieves and HVAC Technician Garrick Gorden. Fortunately, the duo posted a YouTube video of a previous demonstration that I've embedded below. Of course, neither of the musical Tesla coils were what you'd call "high-fidelity" or even "mid-fi". One thing you can say, though, is that the transients are lightning fast.
Kathy Cannistra described her exhibit, "Game of Fire", as "a carnival-styled, interactive, fire art installation." It could also be called a windfall for investors in the fossil fuel sector, an arsonist's dream, or an environmental activist's worst nightmare. Evidently, it required a bit more skill at throwing a tennis ball with a string attached to it than many people were able to muster.
In case you're wondering how the Game of Fire contraption worked, below is a picture of a static demo with descriptions of each component.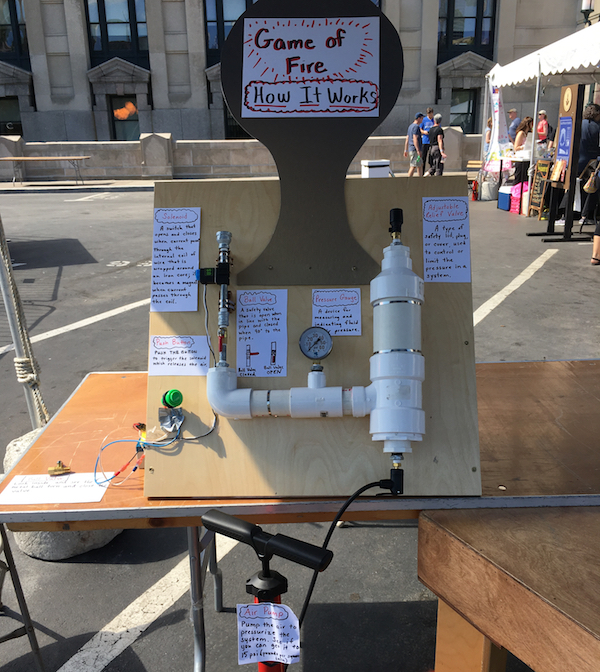 Not everything at the Kansas City Maker Faire was so potentially lethal. The folks at Ameret, for example, were introducing Rhiza Nova, a unique, naturally sustainable, microbe-based soil additive that they say has been "proven effective in agriculture to increase yields and reduce the use of chemicals." Charles Chick, the President of Ameret, likened it to the way people take probiotics to improve the overall balance of healthy flora and fauna in their digestive tract — only Rhiza Nova is designed for the soil and not your gut. More specifically:
Rhiza Nova is a plant and soil inoculant that restores and enhances the foundational levels of soil biology (also known as the soil food web). This product incorporates highly specialized photosynthetic and heterotrophic bacteria into a diverse microbial formulation that provides unprecedented plant enhancement at foliar, root and rhizosphere. The addition of humate material (sourced from peat) to the formulation, provides a readily usable carbon source.
Ameret's Rhiza Nova can be used for traditional agriculture in soil or used in a hydroponic or aquaponic setup. The small, five-shelf, demonstration aquaponic system the Ameret folks had on display is what made me stop at the booth. A fish tank sits on the bottom-most shelf, and water from the tank is pumped to the top hydroponic container. The water then flows down through each container until it eventually empties back into the fish tank, making for a rudimentary — but fully functional — example of an aquaponic system. You feed the fish in the fish tank. The fish waste becomes food for the plants. The plants filter the water for the fish. Ideally, it becomes a healthy, productive, symbiotic environment.
Chick told me that when Rhiza Nova is added to the water in the fish tank, the results are two-fold. The fish are healthier, and the plants grow faster and larger. Oh, yeah, a side benefit is that the food grown in this system tastes better, too. (The cherry tomato I picked off of one of their plants was close to the best tasting tomato I've ever eaten.) They gave me a one-quart bottle of Rhiza Nova to try in a setup of my own that I'm planning on putting together — and potentially automating — next month. I'll let you know how it goes.
Who'd have thought screen printing could be so cool or so much fun? I certainly didn't. Actually, I didn't know much of anything about screen printing before I stopped at Print League KC's space at the Kansas City Maker Faire. The Print League KC folks describe their place in KC as "a creative arts space offering affordable access to printmaking equipment as well as a variety of fun and educational workshops."
One of the quirkiest of things I found as I wandered around the outdoor booths was a menagerie of misfit robot figures made from other mechanical devices' spare parts on display at the Lee Bots booth. Nancy Solbrig is an artist and graphic designer from Illinois (on the opposite side of Missouri from Kansas). Her work is endearingly whimsical and eclectic. You can see more of it on her website.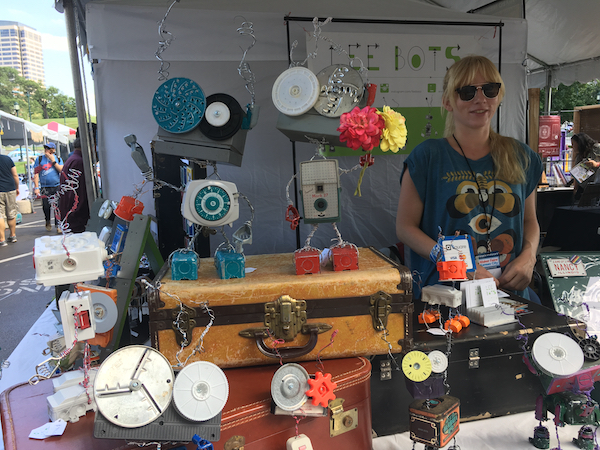 I can't finish without mentioning the Crumble Candle Company. The company is interesting because of the obvious enthusiasm the founder, Brandon Love, has for his product and for life in general. He didn't always feel that way, however. In 2015, at age 17, Brandon attempted to end his life. He credits starting Crumble Co. with saving his life. Now, he says, "it's my biggest hope that it can assist in saving the lives of others, and making many people feel the bountiful joy it has brought me." Each Crumble Co. product is handmade in Kansas, and no batch is exactly the same. The scent names aren't like those you'd find in a Yankee Candle store, either: Exploding Unicorns, Bitchcraft, New Book Smell, Dragon's Breath, Sexy Lumberjack, Razz Boom Bam Pop!, and Fuck Anxiety Summer Edition!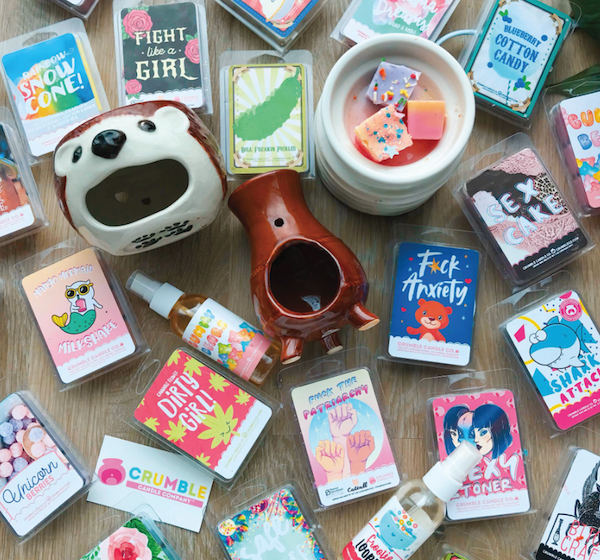 I didn't get time to sample the scents available in all the candles, lotions, salts, sprays, and bath bombs on display in the Crumble Co. booth because it was near closing time. It was also a super hot day, a situation not really conducive to candle sniffing. The company says that their "wax melts contain double the industry standard fragrance load, ensuring a long and true-to-life throw of aroma." I like the phrase "throw of aroma." (It sounds like a euphemism for a particular bodily function…) More than that, though, I loved the company slogan I found printed on the label under one of the wax melts: "The Anti-Suicide & Pro-Joy Aroma Company".
If you're interested in attending, volunteering, or participating in an upcoming Maker Faire, you can check out the world-wide schedule of Faires and enter your address to find one that's close to you here. There were over 225 Maker Faires in 38 countries around the world last year, so there's a good chance you'll find one that's convenient to attend.