JVC Introduces 3 Projectors, Refines E-Shift Tech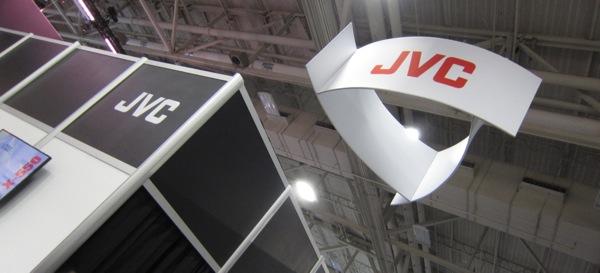 JVC announced three new projectors building on its E-Shift technology. This process accepts a 4K source but displays it from a 2K chip. In doing so, however, is shifts each pixel slightly within each frame in a way that produces an effective halfway point between true 4K and 1080p.
I admit that I hadn't been too impressed by this process when I reviewed one of the first E-Shift designs a couple of years back. But the process has been continuously refined (it's now in its 4th generation as E-Shift 4), and now produces spectacular images.
The flagship of the group is the $9,999 DLA-X950R, rated at 1900 lumens with a native contrast ratio of 150,000:1. The intermediate model is the DLA-X750R at $6,999 with a rated 120,000:1 CR and 1800 lumens. And the baby DLA-X550R offers 1700 lumens and a 40:000:1 native contrast ratio. All of these specified native contrast ratios are without the use JVC's dynamic iris feature, which may be switched on to provide an even greater dynamic (full-on/full-off) contrast. These models are in the Procision line; there are corresponding models in JVC's Reference series The latter are functionally identical to the Procisions but are marketed differently.
All three models offer high dynamic range with an appropriate source, six axis color management, 12-point custom gamma adjustments, compatibility with the Control4 automation program, and November availability. The top two models feature JVC's Real Color Imaging and THX certification.
All three looked exceptionally good, with the DLA-X950R the star of the show on a 150-inch diagonal Studiotek 100 screen—in its low lamp mode. While it would be too early with two days of other exhibits yet for me to see to declare this the best, relatively affordable projection setup at the show, it will take some doing for something better to come along. The Sony VPL-VW665ES was certainly also in the competition, with it's true 4K resolution imaging chip but at a $6,000 higher price.