JVC Offers 4K for $5K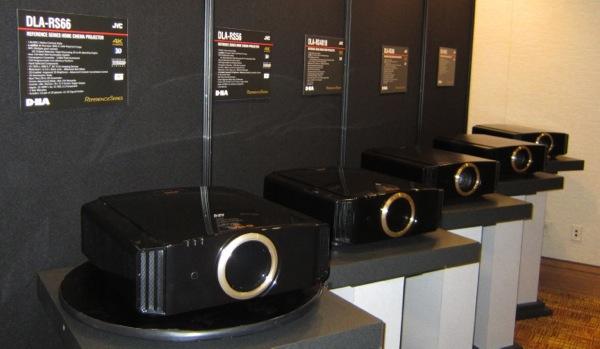 JVC announced nine new LCOS projectors at its Thursday CEDIA press conference. As before, these fall into two lines, Procision (consumer) and Reference (pro), each of which have models that differ only in model number (with one exception, the Reference DLA-RS4810 at $5095, which does not have a Procision equivalent).
All but the base model in each line employ JVC's e-shift2 technology, which upconverts 2D HD content to 4K, i.e. 3840 x 2160 (as last year, the projectors cannot accept a native 4K source). Further video processing then manipulates this upconverted signal to operate with the projectors' 2K (1920 x 1080) LCOS imaging chips.
E-shift2 is an upgrade from last years e-shift. Compared to e-shift, e-shift2 is said to sample 12 times as many pixels in its processing. It also simplifies the light path for higher brightness. The new projectors are said to produce higher native contrast ratios than last year's models, with the top of the line designs said to achieve 130,000:1. The lamps in the new lineup are also specified to 4000 hours, with more stable brightness levels with increasing hours. You can also operate the projectors from your smart phone or tablet with a downloadable application.
The top two models in each line carry ISF and (pending) THX 3D certification. E-shift2 now extends down to a new $5000 price point with the DLA-X55R (Procision) and DLA-RS48 (Reference). The top models are the DLA-X95R and DLA-RS66, each at $11,999. The popularly priced DLA-X35 and DLA-RS46, which do not have e-shift, will retail for $3500. 3D glasses and a 3D transmitter are optional. Delivery of these new models is expected before the end of the year.