Joe Kane Productions Digital Video Essentials: HD Basics Setup Disc
Anyone interested in accurate video reproduction knows the name of Joe Kane. For the last 35 years, Kane has tirelessly advocated that consumer video displays must be calibrated according to standards defined by the broadcast industry in order to produce the best possible picture. To that end, he has produced several video discs with images specifically designed to help do just that.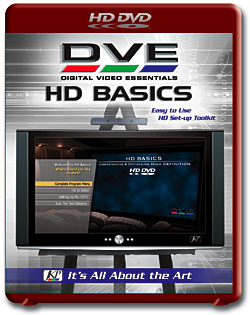 A Video Standard on laserdisc evolved into Video Essentials on DVD, followed by Digital Video Essentials on DVD and HD DVD. Now, DVE has spawned the next generation, HD Basics, a strictly high-def program available on HD DVD and Blu-ray. This disc is designed to be easier than the previous titles for consumers to use.
Features
With the demise of HD DVD, why offer a test disc in that format? There are several reasons. First, HD DVD is much more stable with no variation in capabilities from one player to another. By contrast, most features are optional for Blu-ray players, so their capabilities are inconsistent from one player to another.
For example, all HD DVD players have enough onboard memory to store user-selected scenes from different discs, which can be recalled whenever that disc is playing. This allows the HD DVD version of HD Basics to offer a feature called My Favorites, which lets you select the test patterns you use most often and put them in any order you want, thereby creating your own personalized suite of patterns. Most Blu-ray players do not support such a feature, so the Blu-ray version of HD Basics does not offer it.
Another difference between the formats is the way in which players deal with text fonts, sizes, and so on. HD DVD players can universally handle these elements with no problems, but many Blu-ray players, especially early models, don't have enough horsepower to render fonts properly. In some cases, the text might be dark gray instead of white or even translucent, making it nearly impossible to read.
HD Basics provides an extensive tutorial brought over from DVE, which presents an introduction to the world of high-definition video and discusses the importance of properly setting up and calibrating the video display and audio system as well as the room's effect on your experience. It also explains how to use the test patterns to adjust the user controls on a display to achieve the best possible picture.
The video test patterns themselves are pure Joe Kane—that is, very useful and well-designed. No wonder they've been part of most installers' and video reviewers' toolkit for so long.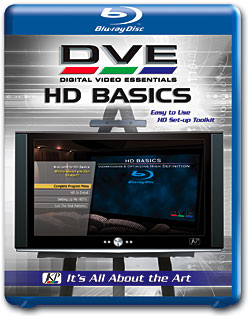 Audio test signals are also included to set up a multichannel audio system, and their use is explained in the tutorial section. The audio was encoded using Dolby TrueHD; the Blu-ray version also has a standard Dolby Digital track as a backup because players are not required to support Dolby TrueHD. On the HD DVD version, both 5.1 and 6.1 Dolby TrueHD tracks are provided, but the Blu-ray version has only 5.1 channels because of the complexity in synchronizing the TrueHD and Dolby Digital tracks.
Most of the video and audio tests on HD Basics can be found on DVE as well. However, they've been completely reorganized to be more accessible by consumers.
One set of video patterns on HD Basics has not been seen on any of Kane's consumer discs since Video Essentials—gray windows on a black background, ranging from 5% to 100% of peak white in 5% increments. These windows are essential for calibrating and evaluating a display's grayscale tracking. I'm thrilled to see them return after so long an absence.
A series of real-world and computer-generated clips demonstrate the strengths—and weaknesses—of any video display or player. These clips were shot specifically for DVE, and, along with the tutorials, they were encoded using VC-1 at an average bit rate of 12Mbps, with peak bit rates extending to the limits of each format (about 28Mbps for HD DVD, 40Mbps for Blu-ray, video only). The demo material is available in both 1080p and 720p resolutions.
New to HD Basics is a version of the 1080p demo material with a voiceover narration by Kane himself, discussing how each clip was shot and what to look for when using them to evaluate the capabilities of a display or player. This narration alone is worth the price of the disc.
The disc package includes a set of red, green, and blue color filters, which are used to set the color and tint controls on a video display. The best way to set these controls is to turn off the red and green channels within the display by engaging its so-called "blue-only" mode. Filters are somewhat unreliable due to differences in the colors generated by different technologies (plasma, LCD, DLP, etc.). But very few displays offer a blue-only mode, so color filters are usually the only way to get the color and tint controls in the right ballpark.