JBL BAR Series Offers Truly Wireless Surround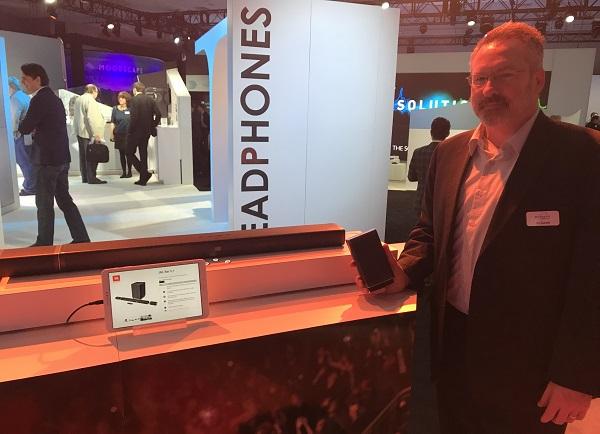 When people say "wireless" they often take for granted that the "wireless" product will still require a wire to connect it to electricity. So the "wireless" part of most "wireless" soundbars involves wirelessly sending the audio signal to the rear surround speakers, which still require electricity to operate. This means speakers must be positioned near a power outlet instead of where they might sound best, and means more cable clutter. JBL is cutting the cord and offering
true
wireless surround operation with its ingenious new BAR 5.1 sound bar.
To function, the detachable rear speakers include rechargeable batteries with up to 10 hours of battery life. Or, in movie terms, that's enough to make it through either of Peter Jackson's trilogies – Hobbit or Rings – or an entire season of Stranger Things without needing a recharge! Harman International's Jim Garrett is holding one of the detached speakers in the photo, which can stand vertically or lie horizontally when in use.
When not in use, the rear speakers re-attach to the sides of the main bar and continue to function while also powering up. This is the perfect compromise for homes that would like better sound, but that insist on having no speakers cluttering the décor. The speakers communicate with the bar via Bluetooth and can be placed virtually anywhere within a typical listening space. Simply detach and enjoy surround sound only when needed, leaving the speakers attached to the main bar when not in use or when watching non-surround intensive programming like the news.
The BAR 5.1 includes other advanced features like Dolby Digital and DTS decoding, three 4K HDCP 2.2 HDMI inputs and 1 output supporting ARC, optical, analog auxiliary, and USB inputs, and 510-watts of total power. A 10-inch subwoofer provides the low-end and for easy streaming from a mobile device the BAR 5.1 also includes Bluetooth 4.0.
Performance was impressive – especially on the low-end and dialog intelligibility – during my brief demo, and the rear speakers indeed made themselves known during a big action scene from the new Pirates of the Caribbean movie used during the demo. The JBL BAR 5.1 is available now for $699.