xXx: State of the Union—Sony Pictures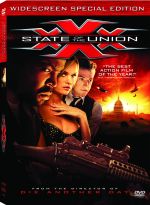 Video: 3
Audio: 4
Extras: 4
If you've rented or purchased
xXx: State of the Union
, chances are you're not looking for something too heady. In fact, if you're not really in the mood to have things like logic or character development get in the way of fast-paced action, explosions, and the occasional shocking stunt, then you've come to the right place.
Samuel L. Jackson reprises his role as military agent Augustus Gibbons, whose unit mysteriously comes under attack. He seeks out an old friend, convict Darius Stone, played by Ice Cube, to assume the role as the new secret agent XXX. After a preposterous prison escape, Stone is on the go, trying to figure out who the enemy is and what their motives are, as he simultaneously dodges authorities. Soon enough, this mysterious threat manifests as someone from Stone and Gibbons' past, none other than the U.S. secretary of defense (Willem Dafoe), whose sociopathic desire to strengthen the presence of the U.S. military around the world is presumably supposed to echo our real-world political situation.
The DVD is presented in Dolby Digital 5.1 with a 2.40:1 anamorphic transfer, and it is nicely packed with extras. These include two commentaries, one by the filmmakers and the other by some of the visual-effects team that worked on the film. The DVD also has deleted scenes, a fairly interesting making-of documentary, and three other featurettes. While the film's plot may be a little flimsy, and the acting a little hollow, it does have some good shoot-'em-up fun.