From the Inventors of the Subwoofer a, er, Subwoofer!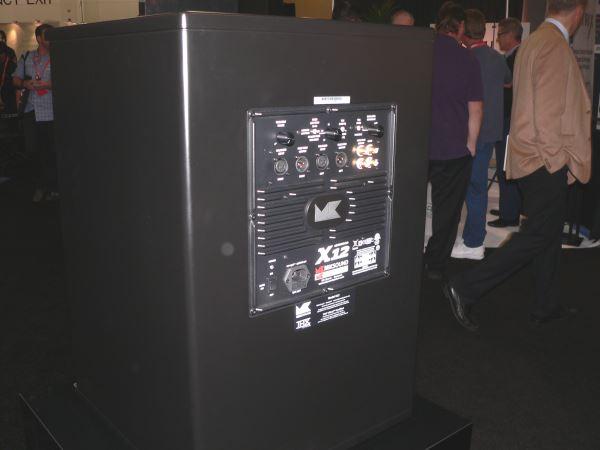 M&K's X12 is a solid piece of form following function. I love the back panel, that's why you're seeing it too. You'll see left/mono and right channel inputs, in both RCA and XLR form, as well unfiltered, pass through outputs. Low pass with the amp can be turned off, set to 80 Hz, or specified by a continuously variable dial that stretches from 50 Hz to 125 Hz. M&K is huge on THX and this X12 is no exception, with a THX reference switch that bypasses the level control.
One 12" woofer faces forward, while another one sits a few inches off the floor firing into the cabinet. Since both speakers are wired out of phase in a push pull configuration, M&K claim lower distortion and higher efficiency. The internal amplifier provides 400 watts (700 peak) of Class AB, judging by the heat sinks. I forgot to ask the price, but I'm pretty sure it's expensive and being M&K, I'm pretty sure it's worth it!
WHERE TECHNOLOGY BECOMES ENTERTAINMENT