Intel Says Hands Off With RealSense 3D Camera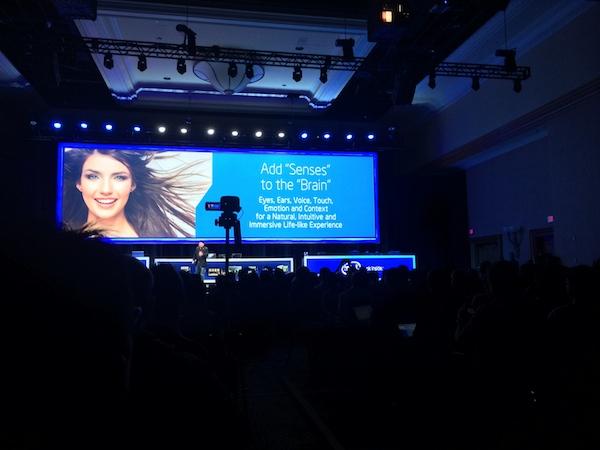 At
Intel's
packed press conference earlier this afternoon, Mooly Eden, senior vice president, general manager of Perceptual Computing Group, announced Intel's new RealSense technology. The new technology is designed to bring "human-like senses to Intel-based devices" through a variety of software and hardware products developed by Intel and collaborating companies.
Eden began the press conference with a brief overview of the "Consumer Computing Evolution", beginning with the introduction of the PC in 1981 through today. Eden pointed out the way consumers have been required to interact with these devices has changed, from the PC's original text-based method, followed by icon/mouse manipulation, and now direct touch with tablets. The energetic Perceptual Computing Group guru pointed out that, "For decades, people have had to learn new languages, techniques and commands to get our devices to do what we want. Intel's vision is to use RealSense technology "to make our devices learn and understand us." Eden further pointed out that, "By equipping them with technologies that mimic human senses in a more genuine way, our everyday experiences such as learning, communication and gaming are transformed…"
The first such "transformative" product will be Intel's RealSense 3D camera, which Intel claims is "the world's first integrated 3D depth and 2D camera module" designed to allow devices to "see" depth "much like the human eye." The integrated module is extremely thin – thin enough, in fact, to be integrated into a laptop's lid as easily as a standard 2D camera. The new camera includes a "best-in-class depth sensor" as well as being full 1080p. It is said to have "the ability to detect finger level movements" for highly accurate gesture control. While that in itself isn't necessarily groundbreaking along the lines touted by Eden, the exceptional depth sensing capability will allow the development of software able to identify facial features and ultimately understand movement and emotions.
Eden and representatives from several companies collaborating with Intel demonstrated a variety of current-day applications for the RealSense technology, including using the accurate depth-sensing to do real-time video "layer" editing that can be used as a cost-effective, simple replacement for green-screen video production projects such as video blogging. Later in the presentation, Avi Reichental, CEO of 3D Systems, discussed the company's collaboration with Intel to use RealSense technology in order to bring 3D scanning and printing "to the mainstream user." 3DS intends on releasing Sense scanning and editing software for consumer use in the second half of 2014.
Intel-based devices incorporating Intel's RealSense technology from Acer, Asus, Dell, Fujitsu, HP, Lenovo, and NEC are expected to be available in the second half of 2014.