Integra Research RDC-7 audio/video controller
Three decades ago, Alvin Toffler coined the term future shock to describe the malaise caused by the increased pace of new technology and information. Consumers of home-entertainment electronics experience some degree of
future shock
with every new technology: high-definition television, DVD-Video, DVD-Audio, and all these new surround-sound formats.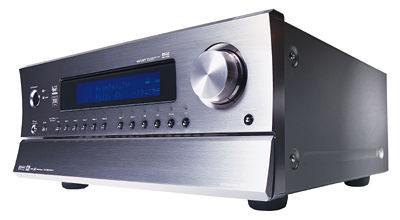 In response to the overwhelming speed of change, I've entertained the idea of endorsing only those home-electronics products that are based on the personal-computer model: a common chassis, power supply, and communication pathway containing interchangeable subassemblies. The old idea of discarding entire obsolete products is wasteful, especially when only one new type of input or surround-sound format programming may be needed to get up to date. We've seen growth in PC applications—especially for DVD-Video playback and high-definition tuner cards (covered by Pat Megenity in his "PCinema" column)—but this product category isn't exactly replacing standalone electronics sales. The biggest obstacle to joining the home-theater PC revolution for many people is the risk of having their movie and television entertainment interrupted by computer crashes. Until this issue of instability is resolved, my enthusiastic endorsement of the HTPC model is tempered.
The designers at Integra Research are aiming for the best of both worlds. They've made their new RDC-7 surround processor as adaptable as a computer, but as consistently reliable as other standalone electronics. While many manufacturers include a 9-pin computer serial jack for communication with outboard automation systems from Crestron and Panja, Integra Research has taken this one step further by permitting upgrades of the RDC-7 surround processor's control circuitry via a personal computer. I know such computer-to-processor communication isn't new—in recent years, other high-end manufacturers (such as Proceed and Meridian) have also done this. What sets the RDC-7 apart from other high-end processors is that it offers future software adaptability and a slot for future digital format connections in an attractive, well-built package for only $4000.
Did I say "only" four grand? I had this unit in my studio for more than a month before Integra established its retail price; based on the thoroughness of the RDC-7's design, THX Ultra certification, and impressively long feature list, I had pegged the suggested retail price at $5000. When the news arrived that it actually would cost $1000 less, I was stunned. When I compared the RDC-7 to its little brother, the Integra DTR-9.1 receiver (reviewed last month by MF), I understood how Integra Research had been able to achieve such a value: The RDC-7 shares a great deal of its engineering with the DTR-9.1.
Looking Over my Shoulder
I couldn't escape the feeling that the Integra Research engineers had peeked over my shoulder as I wrote a wish list of everything I'd want in a surround processor. Actually, they've done much better. Early in the planning of the RDC-7, the design team assembled a collection of custom installers from around the country to talk with them about what the design was to include. This helps explain some of the more unusual features, such as the AM/FM tuner (normally omitted from high-end processors), a phono preamp, extra inputs for digital sources and component video, infrared repeater circuitry, and two programmable 12V triggers (more on these later).
Zoning Out
One feature of A/V controllers that is often ignored or misunderstood is the second, assignable zone output. Zone has always confused people. It is simply an independent audio/video output on the processor that can distribute signal to speakers and televisions elsewhere in the house. The creativity of the custom installer and the homeowner's budget are the only limitations to the size of the zone and the degree of control you can have over it. Unlike MF, I am a fan of whole-house sound and picture distribution. I understand our emphasis on high-end perfection from a dedicated set of electronics in the entertainment room, but allowing those components to also play through televisions and speakers in multiple rooms really increases the value of the system. Many people would use their systems more if they didn't have to sit in one place to experience them.
I've always thought that including speakers and a small television in the master bedroom, the kitchen, and a bathroom (near the theater) makes good sense. If one spouse needs to escape to replenish the refreshments, then a set of speakers and a TV in the kitchen would ensure that they wouldn't miss any of the movie. Same for the bathroom. Or if both get tired, the movie enjoyment can continue in the master bedroom. In addition, because any source can be selected for viewing in this second zone, one program could be playing in the main room while another could be showing through the rest of the house. I'm not suggesting this as a way to fully appreciate a movie, but as a way to get more out of a system.