The Ins and Outs of Downloading from Netflix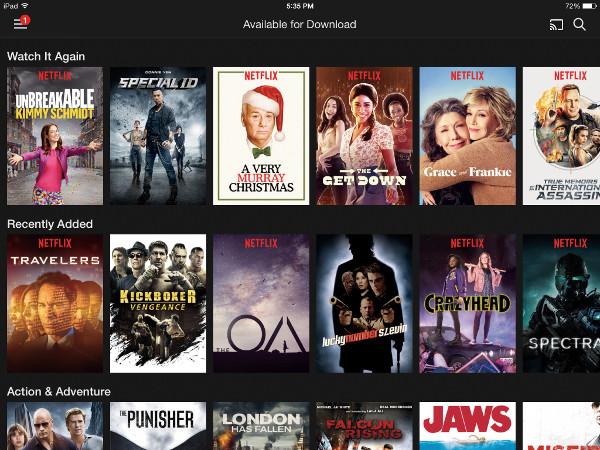 The latest upgrade from the always-evolving Netflix—the ability to download content for offline viewing—is restricted to users of its mobile apps. Unlike streaming, this means you'll be able to watch specific movies and TV shows on a phone or tablet without being connected to the internet and incurring pesky data charges.
To get a sense of how the download experience differs from streaming or playing a disc, I pulled out my iPad and Android phone and made sure the latest Netflix app was installed as well as iOS 8.0 (or later) or Android 4.4.2 (or above). When deciding what to watch from the app, you'll see "Available for Download" listed on the menu. You won't see the option by accessing Netflix from a smart TV, Blu-ray Disc player, gaming console, or media receiver. Nor will you see downloading from Netflix on TiVo or visiting Netflix from a computer. Despite their mobility and storage, notebooks aren't deemed download-worthy by Netflix.
Under My Downloads, you'll see everything you've downloaded with file sizes. An under-two-hour movie consumes about 450 megabytes. With my fast Wi-Fi connection, I was able to download a movie in about three minutes. You can't start playing a download until it's complete (unlike the streamed version), but you can queue up multiple titles for download. You may want to do this while packing for a trip. A basic streaming plan ($7.99 per month) includes downloading but no discs and lets you watch on one screen in SD quality. The standard plan ($9.99) allows two screens at a time and HD. Premium ($11.99) allows four screens and Ultra HD.
Since everything that can be downloaded can also be streamed, it's easy to compare the two experiences. If you like to jump around a movie and hate waiting for the stream buffer to catch up, you'll be enamored by a download's snappy performance. Tug the scrub bar at the bottom of the screen to any point in the show or triple-tap the 10-second replay icon, and play resumes instantly. Still, neither the downloaded nor streamed version offers the amenities of slow-mo, frame advance, or A-B looping that red-envelope holdouts have come to expect from disc play.
It's a mixed bag when it comes to title availability. You can download all the Netflix original series including A Series of Unfortunate Events, Stranger Things, and Black Mirror. There are plenty of network TV shows to download from seasons past, including Person of Interest, The Blacklist, and the original Star Trek. Alas, there aren't enough mainstream movies to download. For every major motion picture like The Imitation Game available for download, there are many more that aren't. In fact, when it comes to the top-grossing films of the past few years, you're still much more likely to find them only on DVD or BD from Netflix.
A company spokesperson said: "The internet is getting better every year, allowing consumers to stream more video globally, although we also hear that downloading is important in places with bandwidth constraints or costly data plans. In our quest to keep improving the service, this is one feature we are able to add to make member experience better."
Clearly, Netflix downloads are a boon for commuters and frequent fliers everywhere. Still, download dependents may find it disconcerting that a show they had been carrying on their phone or tablet can suddenly disappear—even with an active subscription. Netflix buys rights to windows in time, meaning that every month certain titles arrive and others leave. It would be helpful to know when a download is destined to go poof!