Kingdom of Heaven—20th Century Fox
Video: 4
Audio: 5
Extras: 5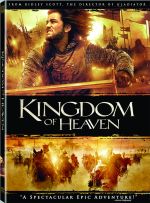 The search for salvation, fortune, and a new world are all familiar things that many continue to fight for today; during the Crusades, it was no different. Ridley Scott's Kingdom of Heaven is yet another masterpiece created by the father of the director's cut, who is best known for his unique vision. Orlando Bloom is Balian, a Frenchman who becomes a knight and travels to the Holy City to find redemption. As the words "I am Jerusalem" are uttered from both sides, Balian must defend his people in this historical clash between Europe and the Middle East.
At times, when the film is graphically violent, Scott balances it out with exotic and haunting imagery, instantly drawing you into Kingdom's allure. The 2.35:1 anamorphic transfer exhibits some of the finest quality, with great detail and brilliant color. The Dolby Digital 5.1 and DTS soundtracks are equally noteworthy, with a score that adds to the film's otherworldly charisma.
The abundant special features require a second disc. Disc one includes "The Pilgrim's Guide," a text commentary of historical and production notes incorporated into the film. Disc two features an interactive production grid, "A&E Movie Real: Kingdom of Heaven," the History Channel's "History vs. Hollywood: Kingdom of Heaven," and four other featurettes.
Before I walked into Scott's journey to the Holy Land, I had no idea the experience would be more than just watching Orlando Bloom on screen. Kingdom of Heaven is truly amazing, and you will not be disappointed.
LATEST VIDEO