Grizzly Man—Lions Gate
Video: 3
Audio: 3
Extras: 2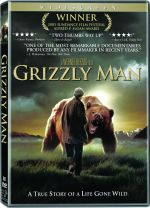 Naturalist Timothy Treadwell wanted to become one with nature, and, in a way, he did. Having lived amongst dangerous grizzly bears over 13 summers in Alaska, he—along with his girlfriend—was eventually mauled and eaten by one of them.
Besides the bears and foxes that he tried to befriend, Treadwell's only other companion for most of that time was the video camera which he used as both a tool for educating people on grizzlies and as a diary for documenting his inner turmoil. Acclaimed director Werner Herzog combined Treadwell's footage with interviews of family, friends, and more, for the provocative documentary Grizzly Man. Treadwell has a soft, feminine voice that is at odds with both the image of a rugged man alone in the wilderness and his descriptions to the camera of having to stand up to the grizzlies. Just as he predicts, it's in his death that his message reached a wider audience.
The DVD's audio is Dolby Surround, which is perfectly fine for the subject matter and for folk legend Richard Thompson's wonderful score. Most of the movie was shot on Treadwell's video camera. So, save for some gorgeous aerial footage by Herzog, the DVD's video, presented in a 1.85:1 format is subpar but makes for a better viewing experience at home than on the big screen, where the source video's flaws were magnified.
Special features consist of the theatrical trailer and "In the Edges," which captured the collaborative efforts behind the film's music. The message at the beginning of the movie stating, "This film has been modified..." only pertains to a Late Show with David Letterman appearance by Treadwell, which was removed after the theatrical run at the request of Letterman.
LATEST VIDEO