iDevices Instinct Not Just a Pretty Light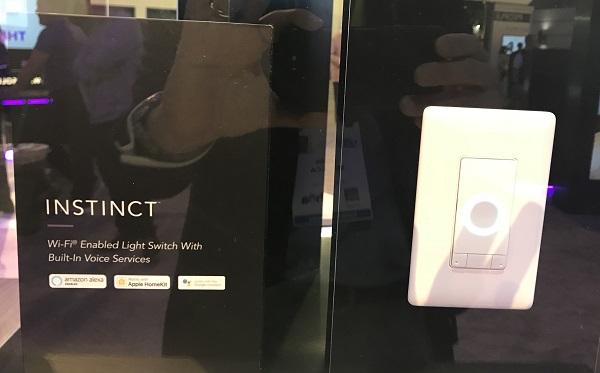 Lots of products shown at CES work with either Google Assistant, Amazon Alexa, or Apple HomeKit, but it is a rarefied few that work with
all
of them. Let alone come in the form factor of an in-wall light switch
and
include an on-board microphone and speaker for full-on Amazon Alexa control and feedback. This distinct privilege resides with iDevices Instinct Wi-Fi enabled lighting dimmer.
Visually, the Instinct appears to be something beyond that of a normal dimmer, with a glowing blue ring in its center reminiscent of the top of an Alexa-enabled speaker. Beyond just turning your lights on and off, users can engage with Instinct just like they would any Alexa-enabled product, asking Alexa for recipes, the weather, directions or to play music. And courtesy of SOEN Audio speaker, enjoy presumably (they did not have a working model in the company's booth) decent sound. All out of a device that fits inside a standard single-gang wall box!
As mentioned, the switch can also be part of a Google Assistant or Apple HomeKit enabled home, responding to "Hey, Google" and "Hey, Siri" commands received from another device. For those less voice-inclined traditionalists, the dimmer can also be controlled by iDevices iOS or Android app.
Beyond its fancy automation tricks, Instinct has motion and ambient light sensing and can be used for energy monitoring. Further it supports CFL/LED lights up to 150-watts, and incandescent/halogen bulbs up to 400-watts. Instinct will be available "later in 2018" at a price TBD.