Battlestar Galactica: Season 2.0—Universal
Video: 4
Audio: 4
Extras: 3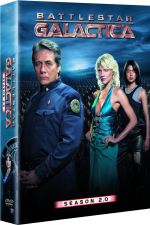 After one of the best season-ending cliffhangers ever, Battlestar Galactica returns for a second season. Of course, calling 10 episodes a season is a bit of an overstatement. If you are a fan of sci-fi at all, you need to check out this show. It's one of the best-written shows on TV and is truly excellent television. Amazing everyone, the second season was even better than the first. Hyperbole? Not even close.
Even though the show is shot in 1080p/24, the 1.78:1 anamorphic transfer is somewhat inconsistent. Some scenes have quite a bit of detail, but others are a little soft. The same goes for the grain. Some scenes are pretty clean, while others are a little grainy. Overall, though, the picture quality is far better than the first-season discs and far better than the undersaturated mess they show on the Sci-Fi Channel. The Dolby Digital 5.1 track sounds quite good. There is a decent amount of bass, although it is a fairly front-heavy mix.
Extras are very light. There are "Podcast" commentary tracks by executive producer Ron Moore on seven of the ten episodes. Nine of the episodes also have deleted scenes. The only other feature is a "Sneak Peak" that has some behind-the-scenes footage—but has spoiler clips from the second half of season two. You can also download Battlestar Galactica episodes for your iPod, of course minus the 480i and 5.1 surround from the DVD.
LATEST VIDEO