The HUMU Augmented Audio Cushion Adds Feeling to Listening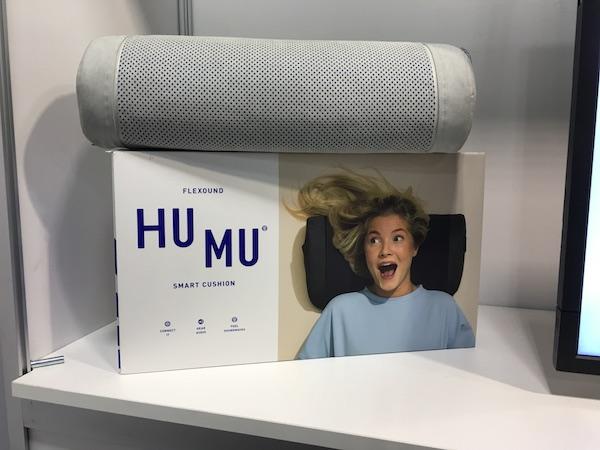 In Finnish, HUMU means "humming" or "commotion". It's also the name of a new "augmented audio cushion" that the company, Flexound Systems (a Finish tech startup), says is "the first consumer product to add the sense of touch to entertainment." Reading about the HUMU prior to CES 2018, I didn't really get what was so special about the device. To me, the description seemed to be describing a pillow with a speaker in it. As a result, I almost didn't stop by the Flexound Systems booth to get a demo the HUMU. I did stop, though, which was good because I had a very interesting discussion with Mervi Heinaro, the CEO of Flexound Systems.
The HUMU, it turns out, is actually a sophisticated near-field listening device with applications for both entertainment and health. (The foundations of the technology were initially developed with therapeutic uses for disabled and autistic children.) It includes two embedded vibrating sound boards that, according to Heinaro, produce sounds and vibrations in much the same manner as a musical instrument does. The element of vibration in a near-field listening device engages the sense of touch along with hearing and, when watching a movie, seeing: "HUMU sounds, ripples, resonates and soothes, augmenting every listening experience with feeling, touching your body and mind in unison."
The HUMU is a cushion—but not what like what you would find on a typical American sofa. The fit, finish (no pun intended), shape, and quality of materials is more akin to a luxury automobile or bespoke office chair than a home furnishing. The measurements are 18.9 (length) x 10.6 (width) x 5.7 (height), and the cover material is Soft Microfibre made of 50% polyurethane and 50% Nylon. HUMU can be connected to an audio source via a 3.5mm audio jack or Bluetooth (4.2, A2DP audio protocol). The internal rechargeable Lithium Polymer battery provides about 8 hours of usage with 3 hours of recharge time. Flexound Systems says the "sound and vibration frequency range from 20Hz to 20,000Hz…is much wider than loudspeakers or other audio devices."
HUMU doesn't have retail distribution in the US, yet, but the unique Augmented Audio Cushion can be ordered now for delivery to the US via Indiegogo InDemand for $299.