Hitachi Ultravision L46S603 46-inch LCD HDTV Page 2
A slim gray grille running the length of the L46S603's screen conceals the front-facing speakers.
PERFORMANCE
After it had been calibrated, the Hitachi really impressed me with its fine resolution, good contrast, natural color, and solid, noise-free image. When viewing a close-up of a black onyx spearhead used by ancient whale hunters on the National Geographic HD channel, my eye caught the scalloped cuts in its hand-chiseled face and the remarkable crispness of its edges. And when the program next cut to a scene showing a mess cook in a tent preparing some sort of whale-blubber concoction, I noticed all the oil stains on the shiny surface of his windbreaker.
A nighttime football game between the San Diego Chargers and Pittsburgh Steelers was similarly awash in fine detail, from the perforated surface of the white Charger jerseys to the snaps, straps, and even scuff marks on the yellow Steeler helmets as the players banged heads to celebrate a successful 46-yard field goal. When San Diego quarterback Philip Rivers got sacked, the slomo replay of him walking away revealed individual blades of grass from a divot that had became stuck under the bar of his face mask.
On the Blu-ray Disc of X-Men Origins: Wolverine, one telling scene depicted Logan (Hugh Jackman), still on his way to becoming Wolverine, standing beside his mountaintop cabin in the Canadian Rockies after trading his military career for the simple life of a lumberjack. Logan's rosy skin tone could be easily discerned from the pale, pink complexion of his gorgeous brunette companion, and the Hitachi reproduced the orange morning sun that bathed his retreat and the mountains beyond with picture-postcard accuracy. Later, when Wolverine arrived at work, I could again appreciate the Hitachi's color accuracy in the familiar yellow of a CAT-brand crane for lifting the giant logs.

The Hitachi's deep blacks can't compete with those put out by LED-backlit LCD TVs, though here it approached the performance of the best new CCFLlit models we've tested recently. In a dark viewing room, the black letterbox bars on widescreen movies and the side pillars around 4:3 programs never quite equaled the black of the TV's surrounding frame. But they came close, and after spending some time tuning the gamma and brightness controls to achieve the darkest blacks while still retaining shadow details, I was very satisfied and never felt like the set was wanting for contrast.
I finished off my viewing with some 480i-format standard-def, and was relieved to see the Hitachi deliver stable images unburdened by obvious noise or crawling pixels. Cable TV shows displayed the usual characteristic softness, but they were free from distracting artifacts. And the DVD of the movie Sense and Sensibility displayed fairly detailed close-ups, even with the Hitachi's noise-reduction circuitry engaged.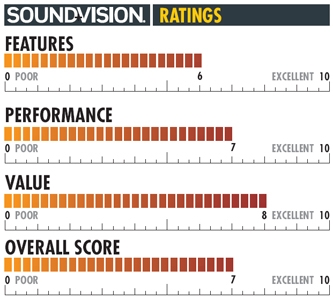 BOTTOM LINE
Let's tally it up: a stylish form factor, lots of inputs, a good range of video presets and controls, an excellent picture (in detail, color, and contrast), and better- than-average handling of standarddef signals. All this makes Hitachi's L46S603 a compelling contender among today's crop of LCDs. If you need a TV with a direct Internet connection or the ultra-deep blacks that LED-lit LCD TVs deliver, you'll have to look elsewhere (and pay more). But if you want an outstanding picture for a good price, you'll find a great value in this Hitachi.
LATEST VIDEO