Hitachi Ultravision 65XWX20B rear-projection CRT HDTV
Judging by mainstream press coverage, you'd think plasma display devices were taking over the market. "Plasma" is the buzzword, even among consumers whose only sighting of a plasma screen was an airport "Arrivals and Departures" display. And that's about all that the pathetic $3000 (add $160 for delivery), 42-inch, standard-definition models being sold today to unwary, buzzword-bitten consumers are good for.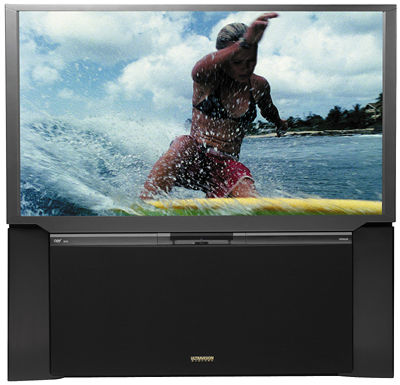 Meanwhile, for the same three grand, you can buy a high-resolution, high-contrast-ratio, 51-inch, CRT-based rear-projection television (RPTV) such as Hitachi's 51SWX20B, which Tom Norton thought so highly of (SGHT, November 2002). The 57-inch model has an MSRP of just $3499. If space is a constraint, plasma is certainly an attractive option, but be prepared to spend at least twice as much as the CRT alternative—and for a smaller screen.
Not having a space problem, and having seen a promising-looking prototype of Hitachi's top-of-the-line 65-inch model last year during a factory tour, I was interested in seeing what the production model looked like. So Hitachi sent me the Ultravision 65XWX20B, and I eagerly set out to see what it could do.
Seven Steps to Heaven
A 65-inch RPTV is big, and this one, at 319 pounds, is heavy as well. But once the Ultravision 65XWX20B was in place, it didn't seem to take up much more room than my 55-inch Philips 55PP9701. In fact, even though it's nine inches wider and a few inches taller, the Hitachi cuts an inch off the Philips' 29-inch depth.
Getting the 65XWX20B up the steps required four people: me, the two moving guys who brought it, and my neighbor Fred, who was in the market for an HD set himself. My house has double front doors, a wide staircase, and only seven steps up to the living room. But even if you don't have such a convenient situation (when we moved a few years ago, I made it a requirement), Hitachi has made the Ultravision mover-friendly: The screen can be unbolted from the main chassis so the set can be moved in two pieces.
Another reason it didn't seem big was Hitachi's industrial design. While most other companies are moving to cold-looking silver finishes, the 65XWX20B is living-room-friendly dark. Silver is okay for smaller, direct-view sets, but a wall of reflective silver just doesn't cut it with my wife.
Technology and Features
Hitachi is the only maker of RPTVs that designs and manufacturers its own CRTs, lenses, and video-processing circuitry. The new wide-neck CRT used in the XWX/SWX line is claimed to offer more brightness and sharper detail while reducing beam-spot size by an average of 10% across the usable range of cathode current. The tube's wider neck accommodates a larger electron gun that's said to improve focus and detail by 20% compared to previous Hitachi CRTs.
In addition, the new CRT is supposed to create a 17% larger picture area compared to previous designs. This is accomplished by putting the power lens closer to the CRT than in any other system. Other lens systems—almost all of which are now made by a division of 3M—place the power lens after a pair of corrective lenses. Hitachi's new Super Contrast lens is claimed to be 43% brighter and 30% sharper than the industry standard, while being compact enough to let Hitachi make a 65-inch-diagonal set that is only 28 inches deep.
The Ultravision 65XWX20B includes a special Deep Black Anti-Reflective Shield—a special screen coating that's said to reduce reflectivity to about 0.5%. Other key performance features (which are offered in other Hitachi models) include their Magic Focus auto-convergence system, which has a manual 117-point override that can be used to touch up the automatic system; Virtual HD, Hitachi's horizontal and vertical upconversion system, which can upgrade conventional NTSC to 540p or 1080i; and 3:2 pulldown correction with 26-point Motion Adaptive Interpolation for video sources.
TJN reviewed all aspects of the 51-inch SWX version of this set last November (see the review in the archives at www.guidetohometheater.com), so I won't repeat his in-depth coverage of the universal remote, Virtual HD's 540p or 1080i upconversion of standard-definition and interlaced DVD, the six aspect-ratio modes (all available with a 480p input signal), the 3:2 pulldown performance, the picture-in-picture facilities (which apply to the set's two built-in NTSC tuners, two wideband component-video inputs, and DVI input with HDCP), and the excellent menu and navigation system. Regarding Virtual HD, I saw little difference between 540p and 1080i when watching the 8-LD set of The Beatles Anthology, but I did appreciate the improvement over what it looked like on an analog TV!
In 1080i mode, the aspect-ratio control allows for 16:9 Standard as well as 16:9 Zoom. This is particularly handy when watching letterboxed 2.35:1 movies, such as those shown on such 4:3 channels as AMC. In Standard mode, you end up with letterboxed top, bottom, and sides. In Zoom, you lose a bit of information off the sides, but you end up with only top and bottom black bars, which is a big improvement.