Hitachi 43UWX10B 43-Inch HD Monitor
Hitachi packs a lot of features into their conveniently sized 43UWX10B HD monitor.
Hitachi's latest addition to the HD market is the 43UWX10B rear-projection HD monitor, a 16:9 version of the 43-inch 4:3 set I reviewed back in February. Hitachi has taken a proactive approach in developing convenient-sized rear-projection displays for smaller home theaters: This unit's modest 20.625-inch depth and 39-inch height make it a great fit in a bookcase or for use in a small room, and the 43-inch screen is becoming a very popular size for rear-projection TVs and plasma flat-panel displays. I should point out, though, that this is a 16:9-shaped screen and 43 inches is its diagonal measurement, so it's not as big as you might think. Nonetheless, Hitachi has packed a lot in this small package. The 43UWX10B has many operational and engineering features that make this HD unit worth a closer look.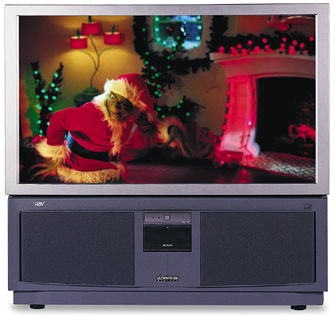 The 43UWX10B's hookup options are very flexible, with enough connections to accommodate future additions. The input/ output panel has all the ports you need for standalone configuration or integration into your existing A/V system—including two RF antenna inputs (one offers a loop so that you can watch one program and record another), two composite and S-video inputs, and two component (Y/Pb/Pr) inputs for your HDTV decoder box or DVD player. There's also an NTSC video output for recording. All of the video inputs have companion left/right audio inputs, and one features Auto Link, a sensor that determines the type of signal present. One shortcoming is that you can't program picture settings for each input; all you get is a master setting. With this number of connections, you could hook up two antenna feeds, three VCRs, a progressive-scan DVD player, a high-definition set-top or satellite box, and a second monitor, if you wanted. You don't really need an external receiver or switcher; however, if you use an external receiver/amplifier, you have the necessary inputs and outputs to complete the display portion of your home theater, and you can use the internal speakers to support the sound system.
The onboard sound system consists of stereo speakers built into the bottom of the cabinet—yet another reason to put this display on a stand (Hitachi offers an optional cabinet stand). The speakers produce full, good sound, but there's not much bass response considering the amount of cabinet space available for a larger speaker. Overall, the internal sound system's quality is pretty good for a standalone system, but it's also easy to connect the set to an external audio system. One great feature is the audio muting, which allows you to select 50 percent or 100 percent muting.
The handheld remote has decent ergonomics for one-handed operation. The most frequently used buttons—the input selector, the number pad, volume control, channel up/down, and the menu key—are backlit. In the center is a thumbstick for selecting and adjusting all of the menu functions, which makes navigation easy. The remote is functional and comfortable to use. Although the thumbstick's response is very slow, I'm willing to forgive it because the remote fits so well in my hand. I'm 6'3" and get annoyed with small remotes. It's also very easy to program this remote to control other manufacturers' components because Hitachi has already programmed in lots of codes. It should control most existing and new components, which pretty much makes it a universal remote.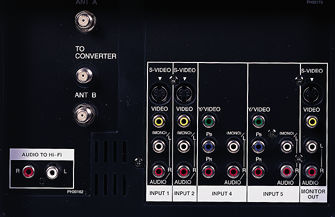 The 43UWX10B's onscreen display features four main menus that help you set up and operate the display. The unit has most of the controls necessary to produce a pleasing picture, and you can set up the display using the remote. Still, I had a certified technician properly calibrate the display, which responded well to the process.
LATEST VIDEO