Hitachi 42HDT51 42-inch Plasma HDTV Page 2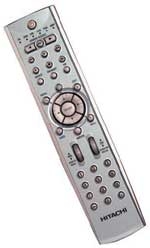 Hitachi has updated its TV remote controls, and the changes are all welcome. The wand that comes with the 42HDT51 doesn't have a backlit keypad, but its button layout is clean and well organized, making operation easy in a dark room. There are two nice ergonomic touches: a notch on the bottom that lets you hold it firmly, and a couple of scroll wheels for channel surfing and adjusting volume with your thumb. Hitting the Input button calls up an onscreen list of sources for you to select from (you can customize names like DVD, Cable, and VCR in the setup menu). And pressing Aspect gives you a choice of six display modes, including one stretch and three picture-zoom options. Unlike those on many HDTVs, three of the modes also work with high-def 1080i and 720p signals.
SETUP Hitachi provides a wealth of setup options that might leave some casual users scratching their heads when they browse the TV's dense menu selections (an Easy Setup brochure is also supplied). But videophiles will be smiling when they find out what's there. To get going, you either plug in a UHF antenna or connect your digital cable line and plug in a CableCARD provided by your local cable company. (Unfortunately, cable providers won't just send you one - you need to make an appointment for an installer to perform this simple task.)

I went the indoor-antenna route - 20 bucks at Radio Shack, Model 15-1868 - and the Hitachi immediately pulled in all my local stations. After using the set's onscreen signal meter to tweak the antenna position for best reception, I hit the Guide button on the remote and was able to scan through the channels. Some of the digital ones even included proper station IDs and program descriptions! Six years into the digital-TV transition, and we're finally getting somewhere.

Other setup features include Day and Night custom picture presets for each input, an option to display gray or black sidebars when you're watching standard 4:3 programs, and various screensaver functions to prevent burn-in. There are also three black-level and four color-temperature settings. But if you have a DVD test disc and are willing to take the time, the Hitachi 's most useful setup options are its Color Management and Color Decoding menus. Using these, I was able to dive in and do an unusually precise fine-tuning of the TV's color balance (see "in the lab").
PICTURE QUALITY To check out how the Hitachi handled DVDs, I connected a Bravo D2 player to its HDMI input and watched the movie Elf. During a snowball-fight scene in New York City 's Central Park , the snowdrifts displayed a realistic range of white highlights. Will Ferrell's green-and-yellow costume as the elf, Buddy, looked bright and vivid, but I could also see subtle greenish hues like the moss clinging to the sides of boulders peeking out from under the snow.

In a scene inside a department store's gaudy North Pole display, the skin tones of Buddy, his brother, Michael, and his object of affection, Jovie, all looked natural despite their very surreal surroundings. Watching the same scenes using the TV's component-video connection, I was impressed at how close they came to the HDMI image - a good indicator of the TV's video-processing abilities.
LATEST VIDEO