Hisense Adds Camera Angle App to Smart TVs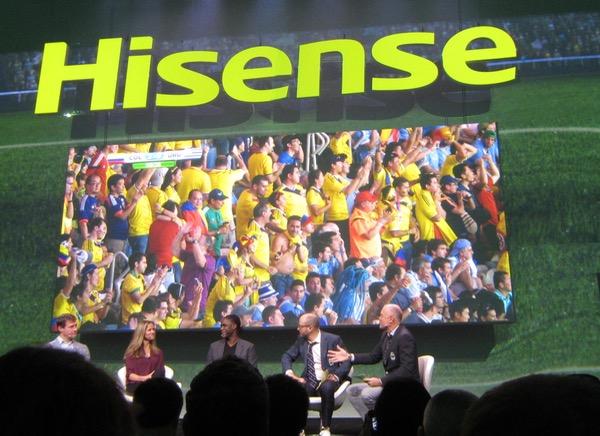 Hisense spent much of the time at its press conference on its sponsorship of the upcoming soccer World Cup (football in most if the world). It even brought in two well-known soccer commentators (though not well known here) and several stars of the game. The big news on the Hisense-World Cup connection is that newly purchased Hisense Smart TVs will come pre-loaded with an application (via Fox Sports GO in the US) that will not only provide live feeds of the games but also offer 37 different, user selectable camera angles.
But there was news on Hisense's new 4K displays as well. The company's new 100-inch laser UHDTV was introduced in the US in October. There are also 80- and 88-inch models, and a 150-incher was shown here for the first time (price as yet TBD). These laser displays are actually short throw projectors, utilizing one of Texas Instruments' newest 4K DLP chips and projecting onto a dedicated screen.
Hisense also announced a number of new flat screen 4k ULEDs (ULED is Hisense's name for its Ultra HD LCD-LED sets, not some new type of display). The H10E series (75-inches only) offers 1056 backlit zones of full array local dimming, a claimed peak light output of over 2000 nits, HDR10 and Dolby Vision, a 120Hz panel, Quantum Dot backlighting (the only Hisense model with this feature, the others use LEDs only), and will be available in April of this year (2018). Price TBD, but Hisense' pricing has always been aggressively low for what you get. The H9E+ series is available in 65- and 55-inch sizes equipped with Dolby Vision and HDR10 but with edge-lit local dimming. Also in April, price TBD. The H9E (without the +, available in March 2018) offers five sizes from 50-inches to 86-inches, also with edge-lit dimming. There are two lower level ranges as well, including the H8E line offering full array local dimming in five sizes from 43-inches to 65-inches.
Hisense also markets lower end sets under the Sharp brand name. In addition, it has acquired rights to the Toshiba brand. Information on the latter development is currently scarce.