Hisense Expanding Line of Smart TVs and Roku TVs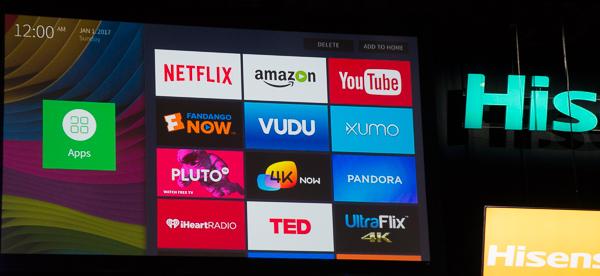 Hisense presented their line of smart TVs that includes models with a redesigned smart TV hub and Roku TVs. The new smart tv platform has the 40 most popular apps preinstalled. Hundreds more apps including entertainment, music, gaming, lifestyle, fashion, news and more are available through the Opera TV store.
Hisense is offering a complete smart TV solution for cord cutters. Along with streaming video apps, the Hisense smart TVs have three built-in streaming live TV channels—TV Live, Pluto, and Xumo. In line with the company's commitment to quality 4K content, Hisense developed the 4K Now content gallery where users can find the newest UHD content from streaming providers. Each Hisense 4K TV has a full web browser.
On the heels of Hisense's success with the H4 series, the company will offer two new 4K Roku TV model lines— the Roku 6 and Roku 8 series 4K model lines —complete with Dolby Vision HDR . As with other Roku TVs, the home screen makes it easy for anyone to switch between inputs and streaming apps as all are displayed in a grid on the Roku TV's home screen. UHD streaming from Amazon and Netflix take full advantage of the TV's capabilities. The 75-inch 4K UHD Roku TV with HDR is value priced under $2,000. Similar to the Hisense 4K Now app, Roku's 4K Spotlight Channel helps users find new UHD content to enjoy on the 4K TV. As with stand-alone Roku Boxes, the Roku remote app will control a Hisense Roku TV.