Hi-Fi or Head-Fi?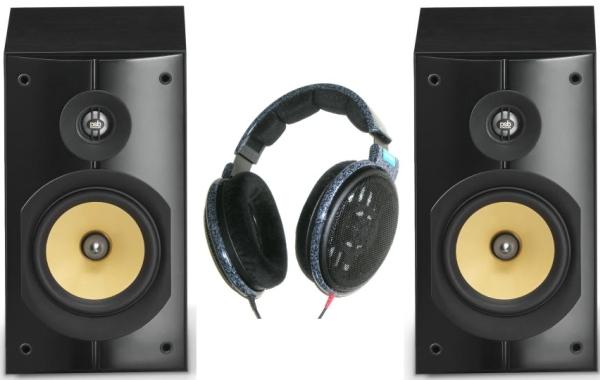 If you have a limited amount of money to spend on audio gear, should you spend it on hi-fi or head-fi? In recent years head-fi has been gaining ground as sales of traditional audio components flatlined and sales of headphones and associate gear skyrocketed. Companies with long track records in hi-fi (and mass market audio) have conjured new headphone lines out of thin air. Companies with long track records in head-fi are making hay.
Those of you with unlimited funds can have the best of both words if you choose. Best wishes to you. But you're not this month's blog topic.
In last month's blog we identified several groups of people to whom soundbars and soundbases are well suited. They included people living in limited space, in small apartments, or renting a room in someone else's home. If soundbars are good for such folks, head-fi is even better. You don't need a lot of space to support a good pair of headphones, or even several, along with a decent headphone DAC-amp and a laptop.
Even those with more living space don't necessarily want to live with a home theater system, with speakers throughout the room, or a high-end two-channel system, with doghouse-size mono blocks on the floor. They're good targets for head-fi, though they might also be served by a good desktop amp and a 2.1-channel speaker system. Then again, they might be even better served by a whole-house system with well-engineered and carefully installed in-walls.
In terms of value for money, head-fi has a commanding lead. You can buy really good headphones for a few hundred dollars and really great ones for low four-figure numbers. The same money won't buy you speakers of the same quality. And decent speakers need decent amps to run them. So budget more for that. You could say the same of headphones, but starting at $99, headphone DAC-amps like the AudioQuest Black are a stupendous value.
Is play it loud your mantra? If so, head-fi is a lot easier on your neighbors than hi-fi. You can blast away at any hour of the day and they'd never know the difference. But your audiologist might. The social and technical limits on the sound pressure levels of hi-fi systems act as a natural barrier to hearing damage. The sound of an amp clipping, or a neighbor pounding on the wall, might actually protect your hearing. Hearing researchers warn that earbuds are the worst-case scenario because they sit close to the eardrum. At least one recommends that you not use earbuds at all.
Hi-fi has its advantages. One is comfort. Speakers and racks may take up space but you don't wear them on your head or stick them in your ears. Nor do they tether you to any physical object. Nor do they have batteries that run out. For long hours of listening, I gravitate toward hi-fi, whether it's my reference surround system or my desktop system.
There's also an aesthetic difference in the soundstage. Speakers at least partly mimic nature by placing the sound in the room with you. Headphones place the singer in your head. Until the invention of recorded sound, people who heard voices in their heads were generally regarded as crazy.
But the room in which speakers play adds something to the sound. It might be benign or it might get in the way. Headphones don't suffer from the acoustic vagaries of listening rooms. They don't need room correction. Then again, they don't benefit from the benign influence of a good-sounding room either. And they are affected by the size and shape of your head and outer ears.
Bass response is another area where hi-fi offers at least a modest advantage. Headphones with true low-bass response cost a bundle. But adding a Hsu or Atlantic sub to your system would cost significantly less.
Finally, there's a demographic difference—almost a tribal difference. The audience for traditional hi-fi is greying. But for younger listeners, adding good headphones to an existing smartphone and/or laptop offers easier access to good sound. This is to some extent a stereotype; there are younger hi-fi enthusiasts and older head-fi enthusiasts. But that's sort of the baseline perception.
I'm glad to live with both. You saw that coming, didn't you?
But what about you?
Audio Editor Mark Fleischmann is the author of Practical Home Theater: A Guide to Video and Audio Systems, available in both print and Kindle editions.