Hi-Fi in La La Land
For the past few years there's been an annual hi-fi show in Los Angeles or, more correctly, in nearby Orange county, CA. But this year, for reasons we needn't address here, it has split into two competing shows, one the first week in June and the other in the fall. The June show was held this year at the Sheraton Gateway hotel near LAX (Los Angeles' major airport). The fall event, as currently planned, will take place as before in Orange County. The LA show is sponsored by the same group that backed the past Orange county events—the Los Angeles and Orange County Audiophile Society.
There were only two serious AV demos at the show. Sony gave one, using one of its 4K projectors, a Sony Elite AVR, and Sony's Elite speakers. The other was organized by Starke Sound featuring a truckload of that relatively new company's speakers in a Dolby Atmos setup. It also featured JVC's 4K consumer projector and a large screen from Seymour-Screen Excellence. The sources were Blu-ray and Ultra HD Blu-ray, stored on a Kaleidoscope AV server. The result was clean and dynamic when I dropped in on Day 2, though tweaking had reportedly improved the Day 1 setup, particularly on the video side. The video quality suffered less than I expected from a room that couldn't be made totally dark.
Apart from the lack of interest in surround sound and home theater among many audiophiles, one reason for the relative absence of home theater demos at consumer shows is that it takes more than a small hotel room to do them justice and larger rooms are costly. Beyond the Sony and Stark/JVC demos, the LA show was strictly a two-channel event.
Hi-fi shows have lately been dominated by the "show cars" of the audio world, with manufacturers vying to demonstrate their best, and most expensive products. The setup shown in the photo at the top of this blog was typical, with Alexx speakers from Wilson Audio of Utah and electronics from T+A Elektroakustik of Germany. The price of this system fell into the "if you have to ask" category—well up into 6-figures. That was typical, and while the results from such systems at the show were often superb, they weren't always obviously better than I experienced from less gold-plated systems. I also wonder if most of the youngish audio fans in attendance could ever afford anything like the offerings in most of the rooms.
One small room, however, sponsored by the audio website Positive Feedback, was called "Getting" Started." When I dropped in for a few minutes there were nearly 20 people in the room (a typical hotel bedroom) along with perhaps a dozen pair of reasonably-priced speakers. We need more of that attention to affordability at audio shows.
But any show where I can hear at least five systems that float my kayak without potentially emptying my wallet can be scored as a success. I'll address only speakers here, as that's all you can really judge at a show. Even then you need to make allowances for the inevitable acoustic problems of a (usually) small hotel room (though three of the five rooms I list below had larger spaces—which likely helped). There are also two other important caveats here. First, I didn't spend much time, or request specific music, in most of the rooms, particularly those featuring products aimed at the top 0.01 percent. And second, while none of my top five below are exactly cheap, they're potentially approachable for many audiophiles (now or later) rather than total pie-in-the-sky. The listings here are random and not in any particular order of merit.
We've filled many pages in the past raving about the budget speakers designed for Elac by speaker wizard Andrew Jones. Elac is now moving upscale with the Adante line, including the big floor standers shown here. They sounded spectacularly dynamic but not pushy, with sold bass despite some obvious room issues. At $5,000/pair they're not cheap, but like the rest of my selections outperformed a lot of the show's pricier demos. Also offered in the Adante line are a large center speaker ($2,000), a subwoofer (price TBD), and bookshelves ($2,500/pair; these had been demo'ed at the 2017 CES). All of them should be available later this summer.
At the 2017 CES Revel sneak peeked an upscale version of the Performa2 F208, along with a similarly tweaked bookshelf speaker. The enhancements offered in the F208Be and friends include a Beryllium tweeter, ceramic coated midrange and woofer cones, and perhaps other less visibly obvious upgrades. The big room Harman scored for demonstrating its products at the LA show (Revel, JBL, Mark Levinson) gave the speakers more room to breath, with no bass mode issues—two advantages they didn't have at CES. At the latter show there was no announcement of a matching three-way center, but one now appears likely. The price of the F208Be is forecast at $10,000/pair, but the speakers won't be available until early in 2018. The current Performa2s are expected to remain in the line.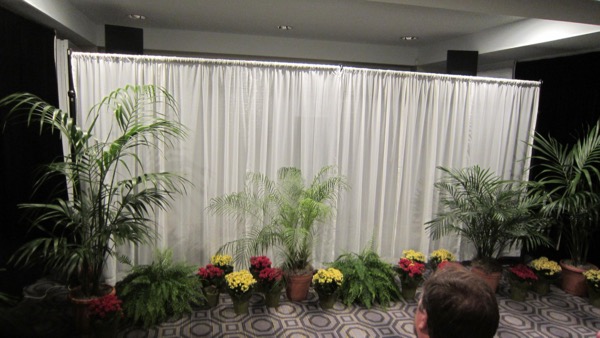 The prize for the most creative demo in LA goes to Magnepan. The company stacked two pair of its budget 0.7 flat panel, enclosure-free speakers ($1,400/pair), one pair each at the left and right, to produce two nearly floor-to-ceiling line sources They also added a single 0.7 in the center for more precise imaging (the latter is hard to pull off in two-channels at a hi-fi show where few listeners can get to the best seat). They were all hidden behind the acoustically transparent curtain shown here. Each of the total of five 4-ohm panels were driven by its own amplifier channel. I might quibble about some aspects of the sound (it wasn't overly dynamic and the source material didn't offer much of a challenge in the deep bass), but there was an ease an spaciousness to the presentation, together with solid imaging (the latter thanks at least in part to that center speaker). The whole setup (the speakers only, of course!) can be had for $3,500. But it's not a product intended for sale; it was done at the show for fun, and fun it was. You can of course buy the 0.7s, and Magnepan would be happy to sell them to you. But you'll be on your own in building the frame needed to stack them.
At several recent consumer and industry shows Southern California's Ryan Speakers showed a large floor-standing speaker, the Tempest III, selling for $16,000/pair. For half that price they now have the S840 in a smaller, more house-friendly size with a similar driver complement including custom cone drivers and a Beryllium dome tweeter. The speakers sounded exceptional on music I had brought along on a flash drive. I was given access to the remote volume control and a digital tablet for summoning the selections (the front end was an Aurender S10 DAC/server and Constellation integrated amp), so I acted as DJ for 20 minutes or so. None of the three or four listeners in the room besides me and the Ryan rep, left during the presentation—a result I attribute to the speakers and not to my choice of music or clumsy DJ skills. The S840s will be available soon.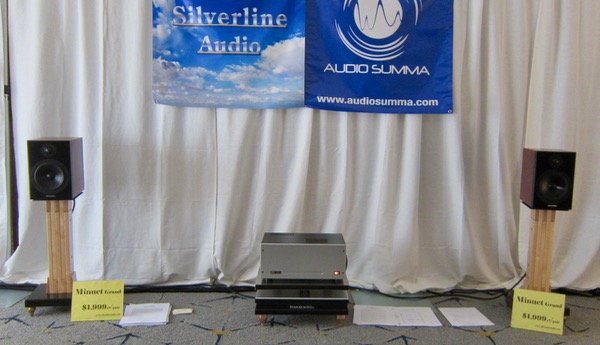 Silverline demo'ed its new Minuet Grand two-way bookshelf speakers. At $2,000/pair it has a lot of competition in the bookshelf speaker market. But it sounded beautifully balanced. With a 5.25-inch midrange/woofer it was missing the deepest bass as expected, but not alarmingly so. The shipping weight for the pair is a hefty 44 pounds, so it's a solidly built speaker. In fact, the drivers are said to be hand-assembled in-house, including applying damping to the paper-cone woofer.