HDMI Forum Announces Version 2.1 Spec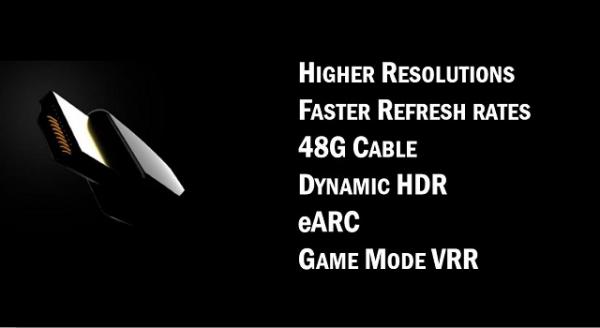 The HDMI Forum is made up of 83 global member companies whose mission is to "support and develop future versions of HDMI spec, support the eco-system of interoperable HDMI-enabled devices, foster broader industry participation in the development of future versions of the HDMI specification," and they announced the specifications of the upcoming version 2.1 today at CES.
HDMI has become the de facto connection standard for A/V gear and the organization stated that six billion HDMI enabled devices have shipped since 2003, with 750 million devices expected to have shipped in 2016 alone. The 2.1 specification is forward looking, with massively increased bandwidth to handle next-generation display technology, and looking to become an end-to-end 4K and 8K solution.
The 2.1 spec includes five major upgrades including support for higher resolutions and faster refresh rates, 48Gbps bandwidth cable, Dynamic HDR, eARC, and Game Mode VRR.
The new spec will support up to 10K video as well as refresh rates up to 120 frames per second for images that are razor sharp and clear especially when watching sports, action movies, or high-performance gaming. The 4K120 ultra-fast motion especially sports and action motions. It will also support the latest color spaces including BT.2020 with support for 12, 14 and 16-bit color.
It will also support multiple static and dynamic HDR solutions for the ultimate in picture reproduction. Dynamic HDR enables a noticeable progression in overall image quality, with embedded metadata that can be optimized and specific to each individual scene or even on a frame by frame basis.
These extra gobs of data will require a larger pipe to transfer al of the information, and the 2.1 spec includes a new 48Gbps cable, significantly increased over the current 18Gbps limit of HDMI 2.0a. This will also have exceptionally low EMI, and be more reliable. The new cabling will include Ethernet capabilities and be fully backwards compatible with existing systems.
The enhanced Audio Return Channel (eARC) will support advanced audio formats, such as object-based audio formats like Dolby Atmos and DTS:X, and enable audio signal control, allowing users a simple setup connection to HDMI enabled soundbars.
Finally gamers will appreciate the new Game Mode VRR (variable refresh rate) which will deliver more fluid graphics and better details. It is also said to reduce game lag, frame stutter, and frame tearing by enabling a 3D graphics processor to display the image at the moment it is rendered without being constrained to a fixed output or frame rate.
The specification is being released to forum member in Q1 with no information yet on when we will actually see the first 2.1 equipped products.