GoControl's New Smart Doorbell Camera Sees All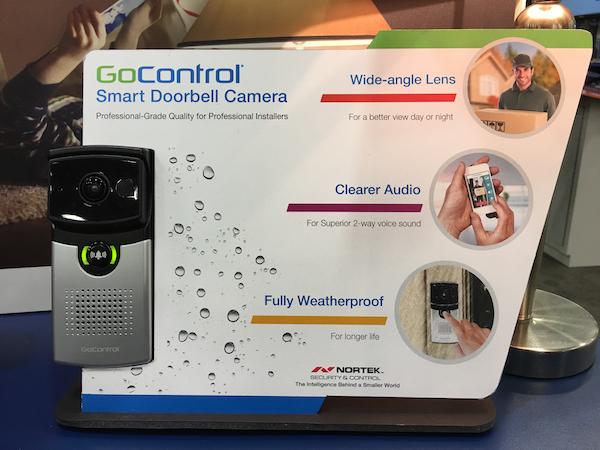 GoControl's New Smart Doorbell Camera Sees All
GoControl's
new
Smart Doorbell Camera
joins the growing list of retrofit-engineered smart doorbells with built-in video cameras and wireless connectivity. This model from GoControl is Wi-Fi-enabled, includes a 720p HD video camera with a 180-degree wide-angle lens, and features two-way audio enabling homeowners to have a conversation with whomever (friend or foe) is at the door.
The camera's 180-degree field of view is an important specification because it allows the Smart Doorbell Camera to be installed off to the side of the door—where traditional doorbell buttons are found—and still allow a clear view of the area in front of the door. GoControl says the unit decouples the audio and video feed from the camera and uses low-latency SIP technology (similar to that found in VoIP devices), a design that is supposed to provide near-real-time audio performance.
Unlike many of the other smart doorbell cameras that are available, the GoControl version needs a simple two-wire connection to a power source, which can usually be obtained using the original doorbell button's wiring. In certain cases, the existing transformer may need to be replaced with a more powerful model.
GoControl's Smart Doorbell Camera is controlled and monitored via the free "MyDoorbell" iOS/Android app that can support two doorbells and up to four user accounts. That means everyone in the family can access the doorbell via their copy of the app, or you can let your in-laws have an account so that can continue to totally screw up your life by saying rude and untoward things at people who show up at your door.
Since there's no central hub or other monitoring hardware, the audio/video feed isn't automatically stored—likewise, there's no subscription or recurring service fees for video storage. Instead, you can choose to record (or take a snapshot of) the audio/video feed from the camera after it senses activity and notifies you.
The GoControl Smart Doorbell Camera will be available for $199 MSRP in about 30-45 days.