Ghosts of CESs Past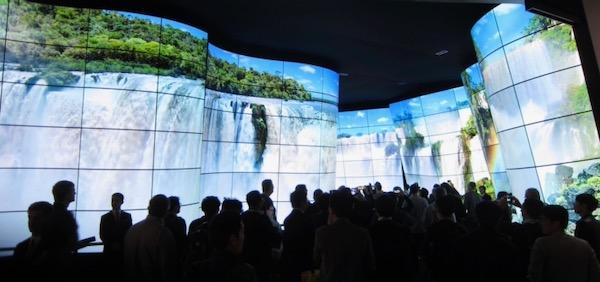 I didn't attend the recent CES in Las Vegas. I haven't gone since 2017. CES can be exceptionally expensive these days; the hotels and restaurants dramatically increased their prices some years ago. I once heard a possible reason why: CES attendees, it was said, didn't gamble enough to keep the lower hotel rates profitable. The obvious solution: jack up the hotel rates, both for room and food!
The disruptions of the past three years have been hard on the biggest trade shows, and CES might be the biggest of all. The last two shows, 2021 and 2022, were apparently lame affairs compared to those of the past And judging from show reports, including those from Editor Mark Henninger, this year was the real deal. Granted that TV makers were a bit reluctant to talk about prices and release dates for their 2023 models, but they always have been.
The last typical CES prior to this one, was in January 2020, with attendees wandering around blissfully unaware that they were moving through a sea of Covid Cooties floating in their midst. The full attendance that year was around 170,000, with a fairly large contingent arriving from China. Covid didn't break into our collective consciousness until later that month.
CES was originally an abbreviation for the Consumer Electronics Show. But a few years back they dropped the full name and now it's simply...ummm...CES, which is what everyone had called it for decades.
I've been going to CES since the big show was in Chicago in June, with the January Vegas show a far smaller affair. But in the early '90s it became obvious that Chicago was being priced out of the market. There was an explosion of hotels in Las Vegas, enough to accommodate the show's growing attendance. Of course, Las Vega is now pricing itself out, but it's the only venue I know of that now offers enough hotel space for the huge contingent of CES show-goers. I can't imagine it now moving anywhere. Back to Chicago in January? Uh...no.
The big draw prior to 1990 was audio. Wandering around the show floor circa 1989 or offered a smattering of 4:3, standard definition, 25-inch, CRT televisions. They drew little attention apart from dealers stocking up for the next TV sale season. It was nothing at all like today's spectacular video exhibits that dominate the show floor (as in the photo above).
At the time I was stationed in Las Vegas, in my last few years in the Air Force, and writing freelance for Stereophile. This gave me the opportunity to attend the show during the day (CES typically ran Thursday through Sunday. which it often still does). I could go home at night free of hotel bills. But that only helped while I lived there.
Stories about the show are legion. When it finally settled in Las Vegas, home theater was still a few years into the future. Two-channel audio was a major player at the show, so much so that over the years it occupied several floors in a nearby hotel, with shuttle service between there and the main Convention Center venue. This allowed exhibitors to actually demonstrate their wares in a way that the open floor of the Convention Center simply couldn't match. "Specialty Audio," as the show Dads named it, introduced reams of new audio products, some of them remaining well known even today. More importantly, it gave visitors you a chance to meet industry icons. Talk to a rep at a video exhibit and you're likely to be conversing with an anonymous salesman. But at the Specialty Audio venue you could often speak to the actual designer of the product on demo, or at a minimum to its importer.
Unfortunately, for reasons likely involving cost, the Specialty Audio section dried up even before Covid hit. Audio was still on the main show floor, of course, but apart from a few adventurous companies that booked demo rooms independently at nearby hotels it wasn't the same. The positive news is that there are now more consumer audio shows in the USA than before. There's also a major audio show in Munich, Germany in May.
Names that come to mind from those earlier CES trips are many, but here I'll limit them to four: Dave Wilson (Wilson Audio Specialties), Irving M. (Bud) Fried (IMF), Sandy Gross (Polk Audio, Definitive Technology, and GoldenEar), and Richard Shahinian (Shahinian Acoustics Ltd.).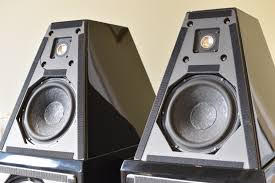 Dave Wilson launched his Tiny Tot at a CES in the '80s, This small, 2-way loudspeaker was pricey for its time but laid the groundwork for the Wilson Audio products of today. Now run by his son Daryl, Wilson Audio is perhaps the most famous name in a now crowded field of cost-no-object loudspeakers.
Sandy Gross founded or co-founded all three of the speaker lines mentioned above and delighted in demoing them to rapt listeners at CES, CEDIA (a smaller custom installer show held in September), and at consumer audio shows as well.
Richard Shahinian exhibited regularly at CES before the Specialty Audio group folded. His chosen demo music was invariably full orchestra classical, which sounded spectacular in the show setting. Shahinian was a follower of Stu Hegeman, an earlier designer who championed omnidirectional loudspeakers. All Shahinian loudspeakers followed that mold, including the line topping Diapasons he often used at the show. Shahinian loved to talk audio and music, but when the music started he usually was silent, as were the attendees in the room. But on one occasion Bud Fried, also exhibiting loudspeakers at the show, dropped in. He loved to chat as well, even over the music. Richard didn't say anything, but you could sense the icicles forming!
I later helped arranged a review of the Diapasons for J. Gordon Holt (the founder of Stereophile). It didn't turn out as well as I had hoped, but I still vividly remember Richard Shahinian's demos at CES. For me it was an event not to be missed and at least an hour-long visit.
CES was and is about the gear. But it's also about the people involved, both the exhibitors and the attendees.