Fusion Research Plays Nice with Play-Fi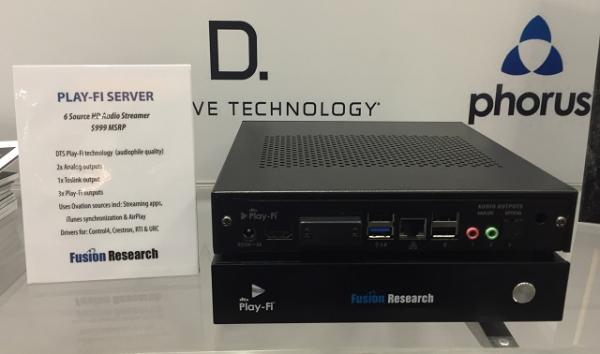 If you haven't heard, DTS Play-Fi is a housewide wireless audio streaming solution making a heavy play to take a bite out of the Sonos' pie. Play-Fi's technology has been licensed by many partners including Definitive Technology, Polk Audio, MartinLogan, Paradigm, Anthem, McIntosh and more. However, because the Play-Fi system is so reliant on the smart device - iOS or Android, phone or tablet - that is currently controlling it, there has been no way to integrate any of the Play-Fi products with third party control. Until now.
Fusion Research's VP of Sales, Ingo Schmoldt, told me that the company's new Play-Fi Server is the "bridge between control and Play-Fi." The new server is incredibly versatile, able to serve up three traditional streams to an amplifier or AV receiver via two sets of analog outputs and one Toslink digital and three separate Play-Fi streams.
Control is based on Fusion's very popular line of Ovation music servers, and will feature robust two-way drivers that work with all the major control systems like Control4, RTI, URC and Crestron. This will allow users to seamlessly integrate Play-Fi listening and control into these systems, simply selecting a room or speaker location as they always do and then selecting the audio service or stream they want to listen to.
Another benefit of using the Play-Fi server is a USB connection for attaching local storage for streaming to the home and the use of Fusion's wonderful iTunes sync and back-up, letting homeowners keep their music libraries up to date whenever they buy or import new music.
The Play-Fi Server will retail for $999 and be available the first of November.