Fujitsu Plasmavision P65FT00AUB Plasma HDTV
Editor's Note: this review was originally written and prepared for the March issue of Home Theater. However, just as we were going to press, Fujitsu announced it would be exiting the plasma display market as of, you guessed it, March. We pulled the review from that print issue, but have decided to publish it here since Fujitsu's remaining plasma inventory will be available while supplies last. According to statements by Fujitsu it will offer service and support for its plasma products for several years.
A solid performer, solidly in the high end.
When I first laid eyes on Fujitsu's P65FT00AUB AVIAMO 1080p plasma at its CES 2007 introduction, I was immediately impressed by how good it looked, in terms of both picture quality and aesthetic appeal. Featuring a piano-black solid-aluminum bezel instead of the usual brushed metal or plastic, the AVIAMO stood out from the competition on looks alone. And even though it's only about 18 percent larger in terms of screen area compared with a 60-inch set, our review sample dominated our testing room.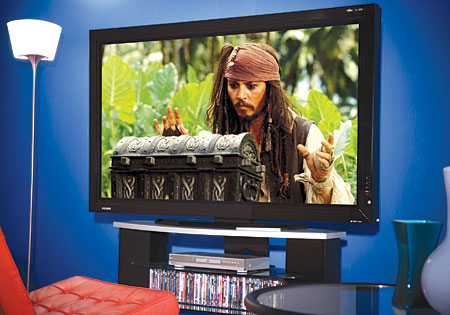 What, No Speakers?
Fujitsu is targeting the custom-installation channel, where dealers are typically in the driver's seat in terms of equipment recommendations to their clients. While the press release calls this display an HDTV, the owner's manual more correctly refers to the set as an HD display, an important distinction because the Fujitsu is supplied without speakers. Fujitsu isn't being stingy by not supplying attachable speakers, as they fully understand that, in the vast majority of custom installation scenarios, the consumer simply tosses those factory-supplied speakers in the trash in favor of a full-on surround sound speaker system—or at the very least a pair of in-wall speakers. While the owner's manual does refer to optional side-attached speakers, Fujitsu confirmed that these are only available in the domestic Japanese market.
Otherwise, the TV includes all the other functionality of a typical HD flat-panel TV, including an ATSC/NTSC tuner, with cable (unencrypted) functionality, along with a slot for a CableCARD that you'd obtain from your local cable provider. Around back, the input panel includes the typical complement of standard- and high-def inputs. Still, with only two HDMI ports, the Fujitsu is a bit behind the times. I'd be happier with at least one or two more HDMI inputs, especially for a display that targets the high end of the market. And although the TV doesn't ship with speakers, there's a pair of terminals to power a modest speaker pair (for those clients who choose not to go the full surround route).
The remote control won't win any engineering awards; it's a rather basic affair. But I'm giving it a few extra points for its amber backlighting—by far the optimal color choice, instead of the usual red or blue that other remotes usually sport. Amber increases the contrast between light and dark, and in our darkened testing room, I easily found my way around the remote's keypad.
Loopy Luminance
During calibration, the set behaves nominally, with one important exception: The IRE white-window measurements in the upper luminance ranges are somewhat loopy, providing up and down values as the white values increase. While I haven't seen behavior like this before, Geoffrey Morrison confirms that he's seen exactly the same odd results with previous Fujitsu models he's measured. When we put up a gray-ramp full-field test pattern, that loopy behavior disappeared, confirmed by both visual and instrument evaluation. With SMPTE color bars, the Fujitsu is right on the money with red color decoding, but only slightly off with green.
Instead of touting the inclusion of a boutique video processing chip from the likes of Faroudja, Silicon Optix, or Genesis, Fujitsu points out that the P65FT00AUB features its own in-house AVM III processor. With 480i standard-definition test clips, the Fujitsu does a good job of detecting 3:2 film-to-video cadences and locking in the pulldown processing within about a second or so—a good result to be sure, but not as quick as the best out there.

With 1080i video-based test patterns, however, the Fujitsu doesn't merely stumble; it outright fails to properly deinterlace the signal to a 1,080-line progressive image. I poked around the video-adjustment menu and found that the factory settings indicate the correct Auto processing mode, which should provide the proper deinterlacing for both video- and film-based material. I also found an adjustment slider labeled Motion Setting and bumped the value up by just one point. That turned the Fujitsu from a deinterlacing dud to a progressive champion, offering just about as perfect a result as I've ever seen. Turning the control up one additional notch spoils things noticeably, with obvious jaggies on the rotating rectangular bar in the test pattern. While all displays will benefit from a full video calibration, the Fujitsu will need extra attention to the video processing settings using test patterns obtained from high-def discs. The static patterns from the usual test pattern generators can't reveal deinterlacing anomalies such as this.
Performance
I turned to real program material and tried out a high-def concert video on Blu-ray from pop songstress Shakira. I found that the picture quality ranks up there with the best, with gorgeous colors, impressive contrast, and no evidence of banding. Concert videos, with their highly saturated stage lighting, are a great evaluation tool to check the prowess of a display's video section; and here, the Fujitsu puts out a great-looking picture. With a high-def movie, in this case 16 Blocks on HD DVD, the Fujitsu put out a comparably great-looking picture, with highly believable fleshtones and very good contrast. I then pulled out a Blu-ray demo disc that Pioneer supplies to their dealers, which contains multiple HD video-based scenes designed to reveal a display's deep-black performance.
Here, the Fujitsu displays a very good, but not the greatest, deep black and dark gray performance. Both Geoffrey and I agree that, unfortunately for the Fujitsu, the latest Pioneer Elite KURO plasmas have raised the bar significantly in that important department. Nighttime fireworks shots and staged interior scenes with dark objects against black backgrounds reveal that the Fujitsu's black level never quite gets to the full blacks that the more recent and superior KURO plasmas achieve. Still, both Geoffrey and I agree that the Fujitsu is an otherwise excellent performer.
Bel Air, California
And now, we come to the price. While most high-end custom-installation clients won't blanch at the Fujitsu's $18,000 price tag, it's still an expensive proposition, even though it's priced $2,000 less than a comparable display from Runco. (But with the Runco, you get an external video processor box.)
Compared with a 60-inch Pioneer Elite KURO display (at $7,500) though, the Fujitsu's extra 5 inches of diagonal picture size will cost the buyer dearly in terms of dollars per viewing inch. With a screen size only around 18 percent larger than the Pioneer, the Fujitsu costs more than double per viewable square inch. No doubt about it: This display's screen real estate is priced in the Bel Air neighborhood range.
Looking at it from another angle, that same $18,000 could buy a wall-mounted 60-inch Pioneer Elite KURO, as well as a top-scoring midrange projector (Sony's VPL-VW60 and JVC's DLA-HD1 come to mind), a deluxe motorized drop-down 16:9 screen in the 110-inch range (that's four times the screen area of the Fujitsu), with a couple of thousand dollars left over for cables, installation, and a touchpanel remote control.
Highlights
• Looks great turned off, pretty good when turned on
• Eminently watchable picture, but bested by Pioneer's Elite KURO
• Designed with custom installation in mind
LATEST VIDEO