Fujitsu P50XTA51UB Plasma HDTV and Leon Speakers Horizon 313-LCR Speaker System
Monocromaticness
.
It's a fact of life that not all people can fit speakers into their living rooms. This could be for size reasons or, shall we say, more personal reasons. This fact has not gone unnoticed in the speaker world, which has been struggling for years with a declining market for big traditional speakers. In-walls have been a choice, but even the best in-walls have to make compromises that often end up being audible. On-walls are a newer choice that manufacturers hope will take out some of the concessions inherent in in-wall mountings. More recently, several companies have begun offering "sound bars" that give you multiple channels of sound from one long speaker that you can mount under your plasma or LCD. Leon is one such company that custom builds all of their speakers. Before they can build you one, though, you have to choose a plasma.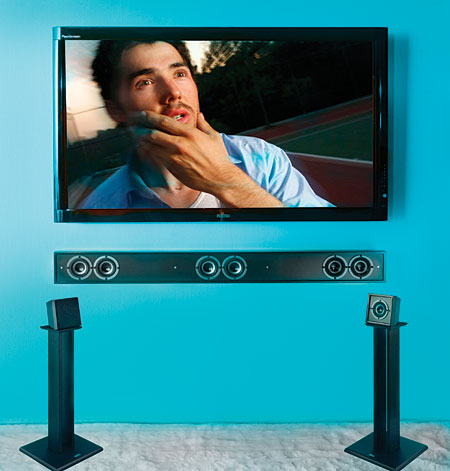 High-Gloss Black
Fujitsu showed off the first color plasma panel a hard-to-imagine 14 years ago. The business has changed a wee bit since that 21-inch monitor. For example, take this 50-inch model. It has the latest version of Fujitsu's AVM-II processing and a shiny-black finish, which is quite different from the silver that I usually think of Fujitsu displays being clothed in. It's a full-on HDTV with built-in tuners and even CableCARD.
Connections aren't terribly numerous, with only one HDMI and two component connectors. The remote is aesthetically identical to previous Fujitsu remotes, although it has a few more buttons, all of which are small and not backlit. There are no dedicated input buttons, but the remote does at least split all the inputs between three buttons. Or you can press the Video button and press the number that corresponds to your input. Switching between the various inputs is a little slow.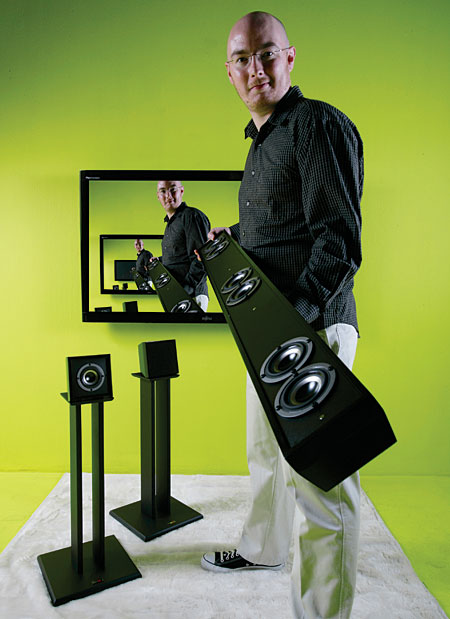 The menus are straight off of previous Fujitsu models. They're monochromatic, which doesn't really matter, but the nomenclature throughout is bizarre and often difficult to interpret. What's the difference between Signal Contrast and Drive Contrast? The picture modes are equally strange. Do you want Effective, Natural, or Conventional? Does this imply that Natural is somehow not conventional, or that Conventional is somehow not effective? I chose the one that will get you an "F" in every writing course taught in the English language: Fine. The manual does little to illuminate these choices. Fine, at least, is the only setting that doesn't float the black level, but Natural has the best contrast ratio—it's brighter on a 100-IRE white field by almost a full foot-lambert.
Get Me Signal
The scaler does a good job bringing out detail in 480i sources. The processor takes a moment to detect the 3:2 signal in regular video material and occasionally loses the signal again for a second. The processor didn't pick up the 3:2 sequence in test patterns at all, such as the Film Detail section of the Silicon Optix HQV Benchmark DVD. Video processing is pretty good, with some jagged edges to the waving flag on the same disc. But, regardless of the source, there is a fair amount of noise, which you can address to some extent with the built-in noise-reduction settings. 3DNR drops the noise level a fair amount and doesn't take too much of a chunk in the detail department as payment. CodecNR combats mosquito noise, which looks like little bugs (so some say) around edges. It's an MPEG artifact, not a display artifact. If you put in a signal with basically no noise (like the HD DVD of 16 Blocks), there's still some amount of noise that's native to the display.

Black to White
While the full-on/full-off contrast ratio of 515:1 isn't that impressive, the TV's actual look is far better. We measure full-on/full-off contrast ratio exactly as it sounds, using a full-black screen and a full-white screen. All plasmas have built-in circuitry to limit the current (and heat) when the amount of white in a signal reaches a certain point. The Fujitsu's light output on a window (55.86 ft-L) is on par with other plasmas, as is its ANSI contrast ratio of 786:1, which is more what this plasma looks like with normal viewing. Take a contrasty disc like the HD DVD of Training Day, where the scene in the beginning at the coffee shop has dark clothing and bright windows. The dark areas of the picture (including the letterbox bars) look sufficiently dark, while the windows are bright. The color looks a tad undersaturated, which is strange given the color points. The black level, at 0.035 ft-L, is about average for plasmas but is still a lot better than most LCDs.
Tiny Black Boxes
Knowing I had the gloss-black Fujitsu, Leon sent out a Horizon 313-LCR speaker and a pair of Horizon 113-S surrounds painted with the same gloss-black finish. The Horizon 313-LCR has three pairs of 3-inch titanium drivers in one long MDF cabinet. Each pair acts as a separate speaker; there are even discrete pairs of binding posts on the back. Mount the 313-LCR flush with the plasma, and most people would think they came together. The Horizon 113-S surround has one of the same drivers mounted in a small, innocuous 5-inch cabinet.
Leon will match the color and width of any plasma or LCD you want or have, which is certainly rare in the speaker business. In fact, they can match to paint samples, allowing for essentially any custom color you want. For one client, they made custom copper baffles; for another, they surrounded a Japanese-painted grille with a cherry frame. (See page 108.) For the spouse who doesn't want to see the speakers, this provides a whole other option. Instead of just trying to hide the speakers, you can match or accentuate your room's décor. It's always said that the best way to get your spouse interested in home theater is to involve him or her in the decisions. Well, here your spouse can pick out the color (or color combination) to best suit the room (something that you surely can't do on your own).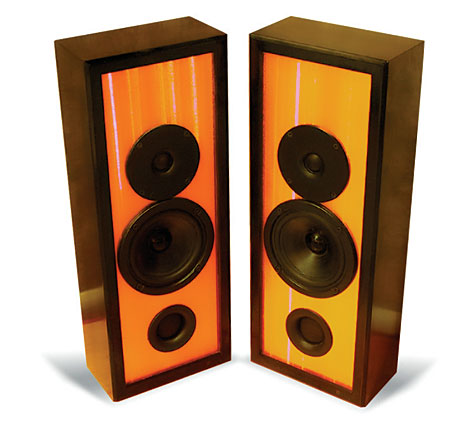 Sound
Like any speaker reviewer (although I am admittedly rusty), I started with two-channel CD. I dusted off one of our few remaining copies of the Burmester II CD. (I think former audio editor Chris Lewis took our other copies as souvenirs.) Track 3 is "Late Last Night" from Hans Theessink's 1992 album Call Me. This blues track has a growly rumble from Theessink's guitar, his distinctive baritone voice, and a tuba (of all things). What worried me about the 313-LCR was its reliance on 3-inch drivers. Small drivers aren't exactly known for their strong bass performance. Thanks to boundary reinforcement (due to the speaker's assumed placement on the wall), this isn't really an issue. The 313-LCR had strong middle and lower midrange. So, while you'll still want to get a sub, the blending between it and the speakers won't be as difficult as you might expect from a speaker with such small drivers. Thus, Hans punched through with a fullness that I wasn't expecting.
The soundstage, though, wasn't as impressive. It wasn't wide or particularly deep. For movies, this probably isn't as much of an issue, as all the sound from the front three channels will come from an area not any wider than your display.
The top end also wasn't as smooth as other speakers I've heard in this price range, although it wasn't bitey or harsh. The surrounds, which use the same drivers as the Horizon 313-LCR, are as perfectly matched as you'd expect. The soundfield from front to back is seamless.
I decided to give the Leon system some DVD-Audio in the form of Fleetwood Mac's Live at the BBC. This rather raucous blues album from the Peter Green, pre–Buckingham/
Nicks era has a lot going on, and, at high volumes, it tends to get muddled on some systems. While there was some compression when pushed, it wasn't severe.
Movies are more where the Leons are suited (seeing as they're made to mate with a display and all). Speakers do get a boost in the lower-mid regions when you place them close to (or mount them on) a wall. If you don't take that into account, the most noticeable effect is that voices can start to sound a little chesty. With a number of different DVD and HD DVD movie demos, I noticed a little bit of chestiness, but it was very slight—slight enough as not to be distracting or probably even noticeable in most rooms.
Together
If you mount them correctly, most people would probably think the Leon and the Fujitsu came together. The P50XTA51UB offers good performance with no noticeable phosphor lag and a decent contrast ratio. Its only major shortcoming is its price, which is higher than even other high-end plasmas. You do, however, get an extra-long warranty. The Leon Horizon 313-LCR sys-tem offers a surprising level of performance from such small drivers in small cabinets. The soundstage isn't very large (a good thing?), and the treble isn't as good as I've heard elsewhere. On the other hand, here is a reasonably affordable custom speaker available in your flat panel's exact color and width. If you want to go even further, you can get it to match any bizarre color combination you can think of. Fuchsia speakers with taupe grilles on a lime-green wall? Sign me up.