Flexson Adds Stands, Color, and Vinyl Streaming to Sonos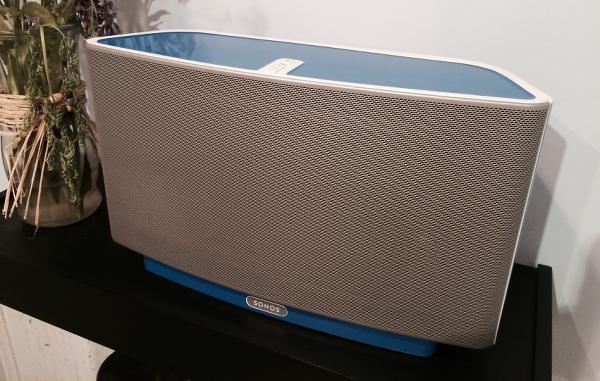 Sonos
is one hell of a system. I've tested a lot of the wireless, multi-room, streaming audio systems over the years—including some of the latest "high performance" systems—and Sonos has remained my go-to system. It's not because Sonos is the best sounding wireless streaming system, although it certainly does sound good. I use Sonos speakers in rooms where music is secondary (or tertiary) to the main activity, such as in the bathroom or kitchen. In these rooms, ease-of-use, convenient form-factor, and reliability trump ultimate sound quality—and Sonos is tops in each of those categories. But that doesn't mean Sonos can't be improved upon. And that's where Flexson comes in.
Much like Sonos, a company that concentrates on doing one thing (wireless streaming audio systems), Flexson has a similarly narrow focus. The UK-based Flexson makes accessories designed to work specifically with Sonos components.
"Such as?" you ask?
"Well," I answer, "things like stands, wall mounts, color skins, and even a turntable."
"A turntable? For Sonos? WTF?" I hear you quizzically say.
"Yes, a turntable for streaming vinyl using your Sonos system. But I'll get to that later."
I think that the Apple-esque industrial design of the Sonos components is great. They look good amidst most room decors, and their shapes make them easy to place in a room. What do you do, though, if you don't have enough shelf space for a Sonos speaker—or you don't have any shelving at all in the place where the speaker will sound best?
Flexson has a solution. Actually, Flexson has several solutions for this type of problem. For starters, the company makes Floorstands designed specifically for each of the three Sonos PLAY speaker models: the PLAY:1, PLAY:3, and PLAY:5 ($89.99, $119.99, and $149.99 each, respectively). The stands aren't flashy. Each is configured as a single column with a weighted base, and they're available in either Sonos-matching black or white finishes.
Flexson sent a PLAY:5 stand for me to try with one of my PLAY:5s. It's impressively heavy (almost 12 lbs.), and ships unassembled in a flat box. Sometimes putting stands together, even simple ones, can be a bit tricky. Not this one, though. The Flexson PLAY:5 stand comes in three main pieces—the top, the "upright", and the base—along with all the necessary hardware (including wrench and Allen key). From opening the box to the point when I was ready to place the PLAY:5 on the stand, it took me a total of six-and-a-half minutes to put the thing together. (It might have taken 30 seconds longer if I'd used the spikes instead of the gel pads underneath the base, but I didn't want to test the resiliency of the new laminate tile in my kitchen.)
There's a wire-management channel inside the upright, and two nylon thumbscrews are used to put pressure on the bottom back of the PLAY:5 to hold it in place. When all is said and done, it matches perfectly with the PLAY:5 and looks like something Sonos might have come up with themselves.
Overall, I'm very impressed with the Flexson Floorstand for the Sonos PLAY:5. I do have a quibble and a caveat, though. The quibble is with the two nylon thumb wheels that are supposed to hold the PLAY:5 in place on the top of the stand. Although they keep the PLAY:5 from sliding around, I think they're too short to really secure the speaker. So I put two gel pads I had left over from another stand on the back of the PLAY:5 where the thumbscrews are supposed to make contact with the speaker. Problem solved.
The caveat is that, although the base of Flexson's Floorstand for the Sonos PLAY:5 is very heavy, it's still relatively easy to tip over the speaker/stand combo. For most people, this won't be a problem; but I wouldn't recommend using this stand if you have young children or large dogs in your house.
If you can't use the Flexson Floorstand, the company also makes Wall Mounts for the three PLAY-series Sonos speakers, as well as mounts for the CONNECT and CONNECT:AMP, the Sonos SUB, the Sonos PLAYBAR, and a few other components. (There's also a TV Mount and a Cantilever TV Mount to use the PLAYBAR with a TV.)
Flexson sent Wall Mounts for a PLAY:5 ($109.99) and a CONNECT:AMP ($59.99) for me to try. As with the Floorstand, these mounts are extremely well built and dead simple to install. Although the CONNECT:AMP's Wall Mount affixes it solidly against the wall (with a short cable management cover), the simple, unobtrusive Wall Mount for the PLAY:5 swivels +/-30 degrees to the left and right and tilts up to 20 degrees down. Unlike the Floorstand, I couldn't find anything with which to quibble or caveat in either of the Wall Mounts.
Flexson also offers a variety of ColourPlay Skins for some of the Sonos components. You can get ColourPlay Skins for each of the PLAY-series speakers in five colors: Racing Red Gloss, Candy Pink Gloss, Cobalt Blue Gloss, Sunflower Yellow Gloss, and Imperial Purple Matt. I put a Cobalt Blue Gloss ColourPlay Skin ($59.99) on my PLAY:5. The skin is made from 3M materials, and is as easy/hard as any other skin or wrap I've used on other products. The fit is perfect. If you're interested in changing the color of your Sonos speaker, choose carefully, though. The colors are bold and will definitely make your speaker stand out.
Flexson makes a ColourPlay skin for the Sonos CONNECT ($29.99), but in this case the only color that's available is Black Matt. Interestingly enough, I use a Sonos CONNECT placed on top of one of my favorite wireless desktop speakers, an Aperion Allaire ARIS Speaker System, which has a black brushed aluminum finish. I never thought that much about the combo's black-and-white contrast, until I put the Black Matt skin on the CONNECT. The size of the ColourPlay skin is just large enough to leave a slim white line around all the edges of the CONNECT. I think it gives the CONNECT an even classier appearance, and it makes the stacked combo look almost like they're supposed to be used that way.
The reverse situation exists with the Sonos SUB. It's only available in Premium Black Gloss, but Flexson has a White Gloss skin ($119.99) that'll make the Sonos SUB standout in a room. That's not normally what people want a subwoofer to do, but a White Gloss skin might be more appropriate in some room decors.
The ColourPlay skins are removable at any time. So if you make an alignment mistake when you're applying a skin, you can fix it without much trouble. That means you can also change colors or go back to the original white finish whenever you feel like it.
When I first read about Flexson and its products, I thought they sounded a little pricey. Having had some hands-on time with the pieces I've tried so far, I can say that everything is heavy-duty, thoughtfully designed, and—importantly—well worth the money.
Oh, yeah, about that turntable. Flexson recently introduced the VinylPlay Turntable. It has both an integrated "analogue-to-digital" converter and a built-in phono preamp, so you can plug it directly into your computer or into any standard line-level input on an AVR. Since many of the Sonos components feature line-level inputs for streaming local-room sources to Sonos devices in other rooms. As such, it's not strictly a Sonos accessory. It's a turntable that happens to work nicely with Sonos gear.
I haven't had a chance to set up the VinylPlay Turntable yet, so I can't vouch for its performance—or, especially, what the experience of streaming a vinyl source digitally from room to room. If it's built anything like the way the other Flexson products are built, it'll certainly be high quality. Whether it's also high fidelity, though, remains to be heard. I'll keep you posted.
Flexson's VinylPlay Turntable is $499. At least it's $499 until May 31st. They haven't published what the new price will be in June, but I assume it will go up, not down.