The Flex House: A Smart Way To Do A Smart Home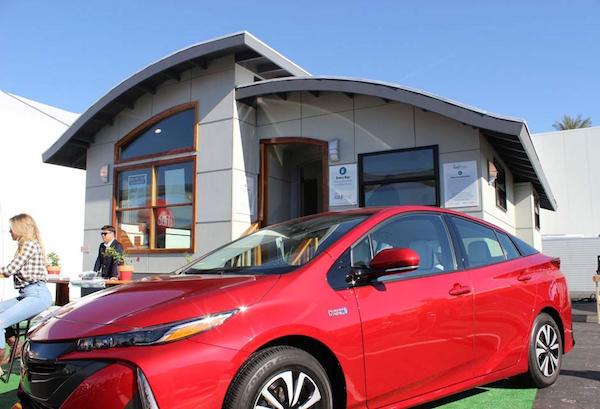 I have this quaint, recurring fantasy that someday I'll give up life on the often-painful cutting-edge of technologydom, find a small piece of land hidden in some wooded hills, and build (by hand, of course) my own
tiny house
where I'll live out the rest of my existence writing techno-thrillers (best-sellers, of course) by day and eating roasted squirrel for dinner at night. The fact that this retreat from technology will still require, at the very least, a high-speed broadband internet connection and regular deliveries of fresh,
green coffee beans
is immaterial. This is a fantasy, remember? (This nirvanish daydream was fueled, in part, by Dmitry Orlov's
excellent book
,
Shrinking the Technosphere: Getting a Grip on Technologies that Limit our Autonomy, Self-Sufficiency and Freedom
. The final chapters are a little bleak, but it's nevertheless a fascinating look at the downsides of our voluntary dependency on so much technology.)
I'm fortunate enough to actually have the acre of woods in which to erect my fanciful tiny house, but I have neither the skills nor the energy to personally break ground and hammer 2x4s together. (Hell, I can't even get out of bed before noon most mornings—and building an off-the-grid tiny house is nearly impossible after the sun goes down.) That's why, prior to CES 2018 last month, I was interested in checking out something called the Flex House by Shelter Dynamics, a modular housing company known for designing the gorgeous Arc House. The company describes the Arc House project as "a demonstration of the quality and craftsmanship that can be produced in a factory and a direction for the housing market into smaller, more functional, and sustainable housing." In other words, it's a tiny house that's as desirable for its aesthetics as it is for its limited ecological footprint.
According to the company, the new Flex House project "expands the possibilities by introducing the concept of 'right-sized living.' The house features a flexible, adaptable modern design with wide-ranging appeal and is intended to be affordable for a broad range of customers." Shelter Dynamics worked with Green Builder Media to put together a fully decked-out Flex House in the middle of the parking lot in front of the Las Vegas Convention Center. With all the smart appliances, Alexa-integration, automated water monitoring, solar power with backup battery (and charging station for the Toyota Prius Prime plug-in hybrid), connected ceiling fans, and a connected HVAC system, the Flex House featured what was being billed as "Smart Home 2.0 technologies" that created "a connected, integrated home which responds and adapts to the occupants' needs while streamlining resource use."
Since I caught the flu the day before CES 2018 officially opened and missed around three days of the event, I was never able to get by and tour the Flex House in person. Since then, I've done some virtual touring, and I'm really impressed with the concept. (How well all the integration works in real life, I can't vouch for. Some of the touted smart home interconnectivity was still awaiting a few device firmware and/or model upgrades as of January.)
The base model Flex House is a 760-square foot tiny home that somehow includes a master bedroom, a smaller utility/control-center room that can do double duty as a secondary bedroom or office, a bathroom, two living areas, a full kitchen, and a flexible "niche" space. What's amazing is not that they've been able to fit all those rooms in a home that's only 760 square feet, though. The hard-to-fathom part about the 760-square foot Flex House is that the whole thing is designed in such a clever way that the house doesn't feel anyway near that small. Okay, I'm only going off of video tours (like this one) of the Flex House, but other than the fact that the hallways are a little narrow, the rooms look like there's easily enough space for two people to live quite comfortably—and that's regular-size people, not the five-inch tall ones in Downsizing.
Some of the smart home features aren't all that exciting, such as the Bosch Dishwasher with Home Connect that can automatically re-order dishwasher soap tablets using Amazon's Dash Replenishment Service. The programmable wash cycles, notifications, energy-management system integration capabilities, and remote diagnostics, on the other hand, are definitely worthwhile uses of smart technology. I'm not going to go through them all, but there are a plethora of additional useful (i.e., not frivolous) smart home things, including a Phyn leak-detection device with shut-off valve, a Rachio WaterSense smart irrigation controller, Emerson smart ceiling fans and a smart Wi-Fi thermostat, and a Kwikset Kevo smart lock.
While there's some room for improvement, all-in-all I think the Flex House project is a fantastic example of the way in which you can utilize smart home technology to truly improve your lifestyle rather than add confusion to it. I can't say that missing the chance to tour the Flex House for myself was the worst part of getting the flu at CES—if you've suffered through this year's strain of flu, you understand—but it sure was disappointing. In fact, it was doubly disappointing because the one day I did make it to Central Hall, which is right across from the parking lot where the Flex House sat, was the day the power went out in the convention center. While I was stuck inside the dark-but-pleasantly quiet hall, the Flex House kept on going thanks to the solar panels on the roof and the whole-house backup battery system. That would have been a much more interesting thing to write about than the in-the-dark experience I had.
They say that the power outage was caused by condensation on a transformer that built up due to the torrential rainfall the day before, but now I'm wondering if the Flex House people might have had something to do with it. It was certainly one hell of a way to demonstrate the house's off-the-grid capabilities…