Fitbit Ionic Smartwatch Is A Smart Choice Even If You're Not Fit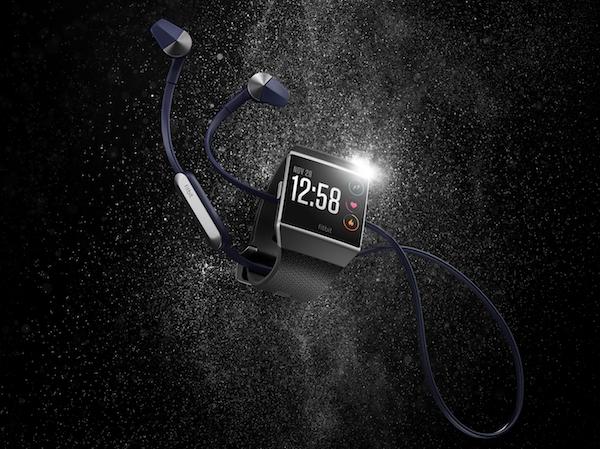 In terms of competence, experience, and knowledge (okay, let's throw insight in there, too), I should be one of the last people to evaluate the new
Fitbit Ionic watch
and the equally new
Fitbit Flyer
wireless fitness headphones. I should be one of the last in line to get my hands on anything with the word "fit" in the name, especially if there's some sort of footrace involved in getting a place in line. Nevertheless, I jumped—well, I sat up straighter in my chair—at the chance to check out the new Fitbit Ionic watch and a set of the Flyer wireless headphones when Fitbit made the mistake of offering me the opportunity. Why? Because, in addition to the health and fitness aspects of the pair, which are many, there's a very interesting smarthome/automation/internet component. (The fact that I'm enamored of smart watches in general played a part, too.)
It's a Watch. It's a Plane. It's…
The term "smartwatch" is such a catchall nowadays that it's become almost useless as a description, with the only common denominator being the ability to tell the time. Prices for what I'll call "mainstream" smartwatches run from around $10 (I bought a $15 "smart" watch once—it was a "dumb" purchase) to at least $1,399 (for the Apple Watch Hermès Stainless Steel Case with Fauve Barenia Leather Single Tour Deployment Buckle, which is the most expensive version of the Apple Watch Series 3 I could find on Apple's website). Then there's the luxe market, with brand names much more familiar to collectors of high-end analog watches, such as the TAG Heuer Connected Modular 45 collection that's "powered by Android Wear and engineered in collaboration with Intel" and tops out at $6,750. That's not a bad deal compared to Patek Philippe's 5327J $75,000 analog watch. All it has going for it is a self-winding mechanism and a perpetual calendar that uses hands to indicate the moon phases, day, date, month, leap year, and 24-hour time.
At $299, the Fitbit Ionic slides in right under the entry-level version of the Apple Watch Series 3 with GPS (with the 38mm Fog Sport Band—add $30 for the version with the 42 mm band). Fitbit describes the new Ionic as "a motivating timepiece packed with fitness guidance, health insights, music storage, apps & more." For once, there's a marketing description that's almost an understatement. The Ionic includes the following components/features:
3-axis accelerometer
3-axis gyroscope
Optical heart rate monitor (for automatic and continuous wrist-based heart-rate monitoring and recording)
Altimeter
Ambient light sensor
Vibration motor
WiFi antenna (802.11 b/g/n)
Bluetooth 4.0
GPS
Built-in NFC chip for contactless payments (unfortunately, the payments need to come from your credit or debit card accounts
Lithium-polymer battery (4+ days of life with 2 hours charge time)
Water-resistant up to 50M (something I'll never test)
Smartphone notifications (provides call, text or calendar notifications on screen plus push notifications from your apps when your phone is nearby)
Stores and plays over 300 songs on the watch, including downloads of your choice of stations from Pandora)
Ships with two watchbands (small and large)
One of the things I like most about the Ionic is its phone/computer OS agnosticism. The company says the Ionic will "sync stats wirelessly & automatically to computers and 200+ leading iOS, Android and Windows devices." I don't have many of the 200+ devices Fitbit is referring to, but so far my Ionic sample has been working extremely well syncing data to my iPhone 6S Plus. (You can check your device compatibility here. Fitbit does make this caveat: "Smartphone notifications unavailable on Windows devices.") Another useful feature is that the Ionic can store and play over 300 songs. Music can be downloaded from your computer, or you can download playlists from Pandora. (Pandora downloads are only available if you have a paid subscription. Fitbit says Deezer Premium+ subscribers will have access to their playlists in 2018.) That way you can work out, run (in my case, walk), skydive, or do any number of other sporty activities and not have to take your phone with you in order to listen to music though your wireless headphones. (This is where the Fitbit Flyer fits in.)
It would be super-boring for me (and likely for you, too) to run through all of the fitness features/functions of the Fitbit Ionic, so let's leave it at this: the Fitbit Ionic has an impressive number of capabilities with regard to monitoring your activities, including sleep. And, unlike many wearables, the 4 days of battery life makes it possible to actually wear the Ionic when you sleep rather than putting it on a charger at night.
Appy Times
Of course, the Fitbit Ionic is more than a fitness tracker. It's also a smartwatch with access to an app store coordinated by Fitbit. It's also compatible (in terms of sharing data) with, at current count, almost forty 3rd-party smartphone apps, such as Amazon Alexa, Strava, MyFitnessPal, Weight Watchers, MapMyRun, Luminosity, and Dick's Sporting Goods. Fitbit also maintains an App Gallery that will—thanks to a just-released free update to the Fitbit OS that runs the Ionic—soon offer over 60 Ionic apps and "more than 100 data-rich (and interactive!) clock faces." (You can read more about each app and its availability here.) Fourteen new apps are available right now, including apps for Nest, Philips Hue Lights, and Uber. Fitbit says that all of the apps and clock faces in the App Gallery are free to download, but "some apps and clock faces may require a paid subscription service (such as Pandora) or a one-time activation fee (to a developer)." Independent developers can download the open software development kit (SDK) for the Fitbit OS and design their own clock faces and apps. This open platform concept was one of the things I liked about my Pebble watch because 3rd-party developers were able to create a massive app gallery. (As an interestingly relevant aside, Fitbit "acquired specific assets of Pebble, including key personnel and intellectual property related to software and firmware development" exactly one year ago today.)
The Right Flyer
It's unfair, I suppose, to talk about the new Fitbit Flyer wireless fitness headphones after showering so much praise on the Ionic watch. Fitbit's new Flyer is a nicely engineered set of Bluetooth headphones with a built-in dual-microphone system to help suppress external noise when used for hands-free calling. When used along with the Ionic, you don't have to touch your smartphone when a phone call comes in. When the incoming caller ID and call notification display on the Ionic's screen, you press the answer icon and then talk as long as you want (well, not longer than the 6 hour battery life of the Flyer) or until you drop from exhaustion while exercising. Although I try never to break out in a sweat, it would be okay if I did because the Flyer headphones have a hydrophobic nano coating that keeps them rain, splash and sweat-proof. (They have an IP67 rating.) The Flyer wireless fitness headphones aren't exclusive to the Ionic, of course, and they can simultaneously connect to two devices at once using Bluetooth 4.2.
Fitness headphones need to be secure when you're wearing them, otherwise one or the other (or both) earbuds will randomly fall out of your ear. Fitbit did a nice job with the design of multiple, interchangeable ear tips, wings, and fins in order to make the Flyer fit in—and stay in—as many sizes and shapes of ears as possible. If you happen to have been born with ears that don't quite match, you'll appreciate the interchangeability of the tips, wings, and fins. In my case, I found that the smaller set of fins did the best job of holding the earbuds in my ears. Unfortunately, I found all three sizes of silicone tips to be uncomfortable and, ultimately, unstable in my ears.
That's a common problem that I have with all earbuds, though, and I normally solve it by replacing the stock tips with a set of compressible/expandable memory foam tips from Comply Foam. With the Flyer headphones, I used a pair of Sport Pro - SmartCore generic-fit earphone tips. They're only $16.99 for two pair (direct from Comply Foam), and they include what the company calls SweatGuard Protection. "This acoustically transparent filter inside the tip keeps moisture (sweat) and earwax out of the earphone's soundport. Recommended for high-end earphones." With those replacement tips, I was able to wear the Flyer for several hours without discomfort—and without them ever falling out.
The Flyer has two sound settings: Signature (the standard setting) or Power Boost (an amplified bass setting "enhanced by Waves sound technologies"). I found the Signature setting to be a bit bright while sedately listening to music. The Power Boost setting definitely gave a boost to the bass. It's not a setting for casual walking or even jogging. It's much more appropriate for highly active, intensive workouts. Fitbit says the setting is intended to boost your energy and provide motivation to keep up the pace. (As you can tell from the picture of the information displayed on the Ionic's screen after my intense, seven-second workout, it didn't help me. Maybe that was supposed to be a seven-minute workout. Oh, well…)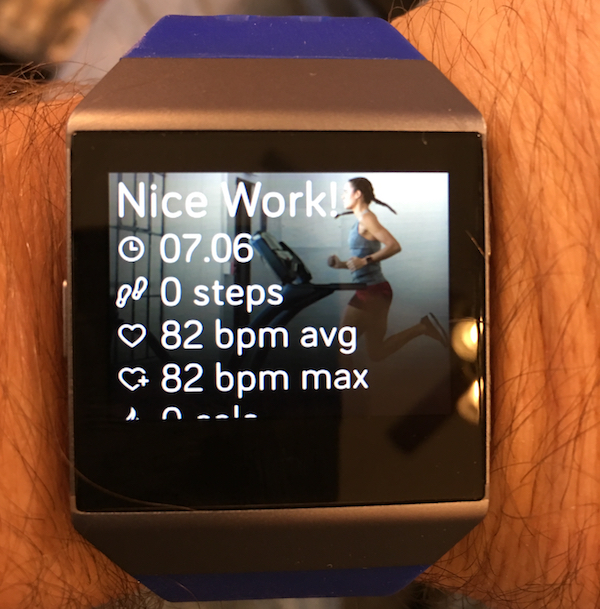 I don't want this to sound like a promo for Comply Foam, but another benefit of the Sport Pro replacement earphone tips was that they helped balance the sound quality of the Flyer in the Signature setting. It wasn't a matter of the tips reducing the slight emphasis in the high-frequencies that I noticed. Rather, the tighter seal that the tips made at the opening of my ear canal improved the bass response over the Flyer's performance with the stock silicone tips.
In virtually all aspects, I think that the Flyer is an excellent set of wireless sport earphones—ones that are well worth the $129.95 price tag. But they're made a much more awesome set of sport earphones if you cough up the additional $17 for two pair of replacement Comply Foam Sport Pro replacement tips. At $147, that's a true bargain combo price for the quality, performance, and sport-related capabilities that you get for that amount of money.