Dynaudio In-Walls Excel at Installation Flexibility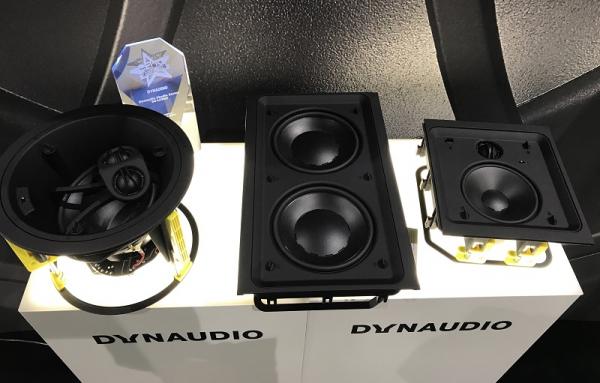 Founded in Denmark in 1977, Dynaudio is celebrating 40 years crafting audio products, now with a focus on the custom install market with its Studio Series. What makes the series so cool is not how great it sounds — which I'll have to just take at their word, as the display at CEDIA was static — but the intelligent thought that went into the installation problem-solving design.
Most in-wall speaker designs give no thought to the installation process, namely that there very well could be a stud located right where you want to position the speaker. While it is usually possible to position the left and right speakers equidistant from the screen, the center channel is often a different story, with a stud usually located right where a speaker would need to be cut in.
Dynaudio's new Studio Series S4-LCR65 utilizes an innovative modular design concept to offer incredible installation flexibility via multiple LCR channel configurations including different heights, widths, and even mounting between stud bays for installations without any structural modification. This is accomplished by utilizing two different modules, each featuring a crossover to facilitate daisy chaining the speakers together. The system is comprised of the S4-LCR65W ($699) dual-woofer bass module and the S4-LCR65MT ($999) midrange/tweeter module.
The modules can connect together in a variety of configurations and layouts, including utilizing multiple bass modules in a bass-mid/tweet-bass layout, and then be positioned as needed, either vertically or horizontally. If a stud is in the way, the speakers can be spaced apart in multiple cutouts and then the entire speaker array can be covered by a custom-sized grille provided by Dynaudio. The custom grilles are individually cut to length for each project, and grille stops that match to the magnets in the speaker modules' frame are screwed into the wall to ensure the grille is held securely in place.
The company also debuted the new S4-DVC65 ($699), a single-stereo in-ceiling loudspeaker that features two 1.1-inch tweeters and a dual voice coil 6.5-inch woofer. These speakers are perfect for smaller areas where only a single speaker is required, or long areas like hallways where a single, stereo-summed signal is better. The speaker module is angled 18-degrees and can be rotated a full 360 degrees within its pre-installation frame, and the dual tweeter assembly can be pivoted in three positions to further point the sound where it is needed.
While not mentioned in the press release, the Dynaudio rep at the booth told me that a switch on the speaker could also be used to put the speaker into dipole mode for use in surround locations.
All speakers install with a tool-free, clip-in design and are scheduled to begin shipping in the fourth quarter.