Dolby 3D
As I wrote in
a previous blog entry
, there are two approaches to 3D that use passive glasses, and I explained one of them—polarization—in that entry. Here, I'll explain the other one, which is marketed by
Dolby Labs
and called, appropriately enough, Dolby 3D.
The human visual system is sensitive to light wavelengths from about 400 to 700 nanometers (nm). And as you might know already, all color-video images are produced by combining red, green, and blue in various amounts. This works well since the retinas in our eyes contain cells that are more or less sensitive to these primary colors. However, these cells are not sensitive to only one wavelength of each color—the red-sensitive, green-sensitive, and blue-sensitive cells respond to bands of overlapping wavelengths as shown above. (In the diagram, S = short wavelength, M = medium wavelength, L = long wavelength.)
As a result, video displays can use different wavelengths of red, green, and blue to reproduce a nearly full-color image. One well-known standard is called Rec. 709, which defines the colors of red, green, and blue for HDTV; digital cinema uses a different set of RGB. (As a side note and just for the sake of completeness, the three colors in both cases are not purely monochromatic single wavelengths—each one includes a bit of the other two—but this is not important for our discussion here.)
Dolby 3D takes advantage of the fact that red, green, and blue can be defined differently to isolate the image for each eye in a stereoscopic presentation. First developed by a German company called Infitec (short for Interference Filter Technology), this solution is actually quite ingenious—project the left-eye image using one set of red, green, and blue wavelengths and the right-eye image using a slightly different set of RGB wavelengths, as depicted in the diagram above from Dolby's patent.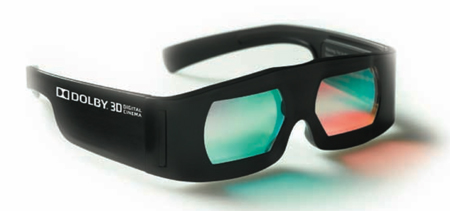 To see the 3D effect, viewers wear glasses with filters that allow only the appropriate set of RGB wavelengths to reach the corresponding eye. These glasses are more costly than polarized glasses but not nearly as expensive as active-shutter glasses.
The whole idea of color filtering has led some to call Dolby 3D "super anaglyph," because each eye sees different colors. However, I think this characterization is misleading—anaglyph most commonly refers to those dreadful red-and-blue glasses that yield a very poor 3D image. I've seen Dolby 3D, and the experience is nothing like traditional anaglyph.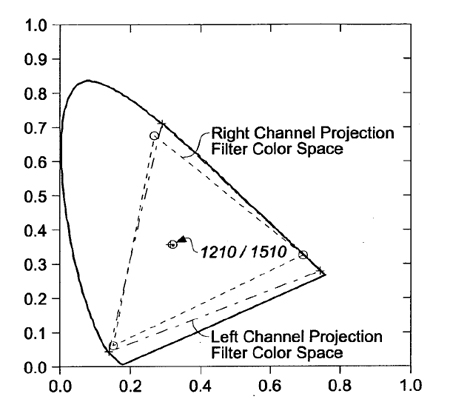 Of course, the two color gamuts are slightly different, as depicted in the CIE diagram above, also from Dolby's patent. As you can see, the left-eye color gamut (incorrectly labeled "color space" in the diagram) is slightly more saturated than the right-eye gamut, but the white points are nearly coincident. (BTW, the numbers labeling the white points in the diagram are patent-reference numbers and have nothing to do with any technical aspect of these points.)
To show Dolby 3D, a digital-cinema projector is equipped with a filter wheel, as depicted at the top of this blog, much like the color-filter wheel in single-chip DLP projectors. In this case, however, the wheel is divided in half—one half filters the light from the projector's lamp into one set of RGB wavelengths and the other half filters the light into the other set of wavelengths. The projector is synchronized to display the left or right image when the appropriate filter is in position.
The main advantage of Dolby 3D over polarized 3D is that no special silver screen is required. This results in greater color accuracy for both 2D and 3D presentations by avoiding the color shifts introduced by polarization-preserving silver screens.
To date, Dolby has shipped about 3700 Dolby 3D systems to commercial theaters worldwide (925 of which are in the US); to find one near you, click here. However, there are no consumer projectors that use this technology—yet. I don't doubt that Dolby is working on this, and I hope to see a consumer version soon, if only so that one screen can be used to display the best possible image in both 2D and passive 3D.